The LivePerson Conversational Cloud
LivePerson's Conversational AI revolutionizes the customer-brand relationship by allowing brands to create meaningful, personalized connections with customers - whenever they need and wherever they are - all while delivering real business outcomes. Using the power of AI and machine learning, our natural language understanding is built on data from billions of conversational interactions and channeled into our intent discovery and AI automations. Brands using Conversational Cloud gain the innovative tools and deepened understanding of consumers they need to build intent-driven conversational experiences based on consumer intent, greatly improving customer satisfaction and brand efficiency.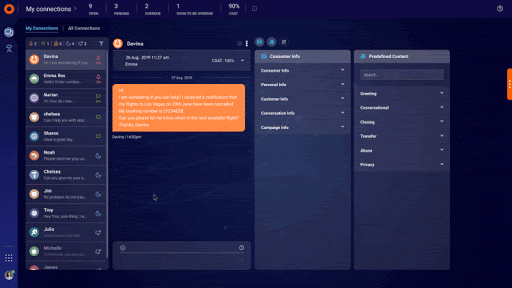 LivePerson Conversational Cloud animated
Conversational Cloud unites customer experience platforms across messaging, social, voice, email, sentiments and analytics, and allows brands to understand their consumers' intent through intent discovery. Conversational AI enables a continuous connection with consumers at every stage of their life cycle - starting with intent discovery, through decision-making, support, payment and re-engagement.
 Our Conversational Cloud platform then offers a simple way to manage and automate these consumer conversations—all in one place. The outcome is closer connections with consumers, improved customer experiences, increased customer satisfaction, which results in more growth opportunities for your brand. 
Why the Conversational Cloud
Using Conversational Cloud, brands can understand consumer intents in real-time to inform critical business decisions and automate consumer interactions at scale on all the popular messaging channels.
Asynchronous efficiency. Our purpose-built platform is designed for one-to-many operational efficiency. 
Conversational AI that is curiously human. AI doesn't replace humans, it elevates them to create digital experiences with your customers that  foster personalization at scale
Intent discovery. Understand customer intent and sentiment at scale to understand what they need from your brand. From there, you can route consumers to the right agent (human or bot), more efficiently manage agent workloads and consumers in the queue, and uncover trending intents.
Conversational AI across customer journeys. Automatically engage your customer whenever they need, and where they want to have a conversation -  across any and every channel. 
Work from anywhere. The Conversational Cloud can be accessed whenever and wherever, making it ideal for a remote or distributed workforce. Newly launched and updated iOS and Android mobile apps allow agents to work from anywhere, enabling them to provide services without the need to be tethered to their desktops.
Industry benchmarking. Understand how your KPIs stack up against the competition. 
Easy bot-building. The Conversational Cloud empowers anyone to build automated conversation flows with a simple point-and-click interface. Once built, conversations can run on every messaging channel connected to the platform. Our out-of-the-box templates allow brands to immediately begin leveraging intents and building bots using AI. 
Open platform. The Conversational Cloud is an open platform that can be integrated with third-party services through a comprehensive set of APIs and SDKs. LivePerson Functions makes this process even easier by offering serverless customization and integration with the ability to create custom automated workflows.
How the Conversational Cloud Works
working together to help brands become conversational.  The Conversational Cloud powers the orchestration of human agents, bots, and systems to discover and understand consumer intents, design and scale personalized automations to fulfill those intents, and measure and optimize the effectiveness of conversations. The platform's components consist of:
Intent Manager
Conversation Builder
Conversation Manager
Conversation Orchestrator
Conversation Analytics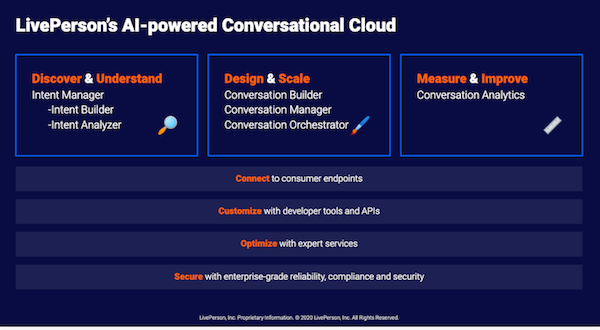 How the LivePerson Conversational Cloud works
Discover and understand
Intent Manager allows you to understand what consumers want
Identify intents to automate, improve conversation design, and personalize consumer journeys. Intent Manager runs on our proprietary NLU, which is built on over a billion brand-to-consumer conversations and outperforms the top NLU contenders in the world.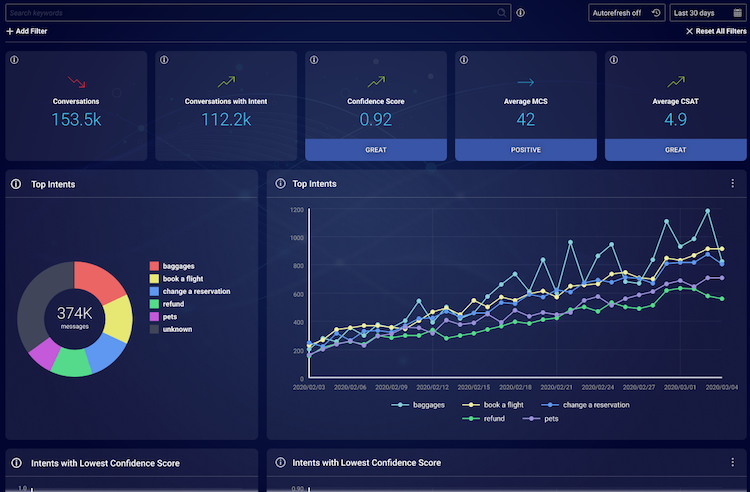 LivePerson Conversational Cloud Intents
The Intent Manager accurately understands what consumers want. It empowers brands to build an intent taxonomy, analyze the most popular consumer intents, optimize how well they are being fulfilled, and discover intents that can or should be automated. The Intent Manager is made up of the Intent Builder and the Intent Analyzer.
The Intent Manager accurately understands what consumers want, and then empowers brands to build an intent taxonomy, analyze the most popular consumer intents, optimize how well they are being fulfilled, and discover intents that can or should be automated. 
 Intent Manager comes pre-configured for a variety of industries, to automatically understand a high percentage of consumer intents entirely out-of-the-box. It offers flexibility for data scientists, content creators, and non-technical employees to fine-tune or configure custom intents from a simple interface.
Intent Manager starter packs are available to accelerate the development of Intent Taxonomy with both vertical-specific and universal starter intents to enable our customers to quickly get started with an intent-driven business. Starter packs are available for telco, banking, insurance, and airline industries. We also offer a cross-vertical starter pack that can be used for any industry.
Real-time intent data empowers brands to make important business policy, process, and product related decisions, and to automate a high percentage of consumer interactions when used in conjunction with Conversation Builder.
Design and build
Conversation Builder gives you the tools to build AI-powered bots
Build automated conversation flows to fulfill intents in hours versus months. The Conversation Builder allows brands to build bots that connect to consumer messaging channels and backend business systems, like CRM, billing, product inventory, and others. Conversation Builder provides brands with an easy-to-use bot builder that also enables non-technical staff – often the people who best understand a brand's voice – to be able to create, optimize, and visualize bots.
The Conversation Builder Dialog Editor has a scalable user interface that lets you effortlessly manage a large number of dialogs as well as a self-guided interface that lets you easily create rules, without the need for coding. 
In the Conversation Builder's Bot Analytics Dashboard, our  MACS (Meaningful Automated Conversation Score) enables users to visualize and tune the performance of their bot while understanding where and why some bots may be failing to perform. Bot Analytics also shows users the usage and intent matching metrics, giving an in depth analysis of the bots performance including conversion rates and number of interactions.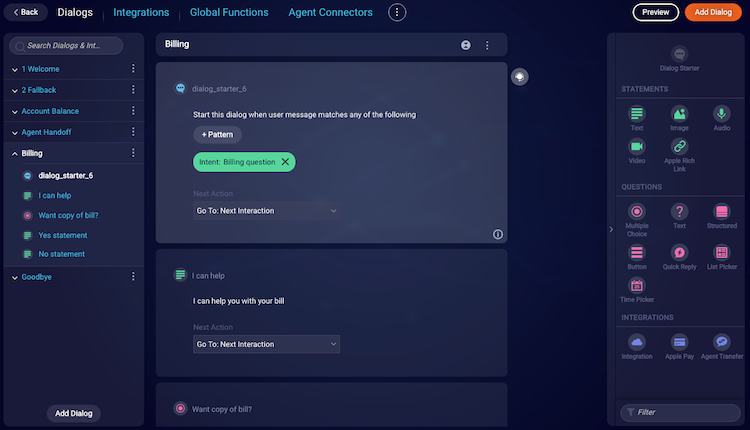 LivePerson Conversational Cloud Conversation Builder
KnowledgeAI
The Conversation Builder can search the Knowledge Base and provide an article that may be helpful to the user, using our KnowledgeAI. KnowledgeAI leverages brand content from multiple sources to answer consumer questions wherever they are. KnowledgeAI powers rich automated answers via bots (driving conversation containment) and answer recommendations to agents (driving agent efficiency)
Manage and scale 
Conversation Manager lets you manage agents, bots and conversations
In the Conversation Manager, agents can hold multiple conversations and monitor bot interactions from any channel in one centralized workspace. Whether from the office, at home, or on-the-go, our cloud-based workspace makes it easy to manage everything conversational from desktop or mobile. 
It features a Manager Workspace where agent managers can oversee human and agent bots. Chatbots work with human experts where human agents supervise those automations. Brands can then scale by leveraging human agents to supervise automations and chatbot interactions that can hold multiple conversations at once and fulfill consumer needs at scale.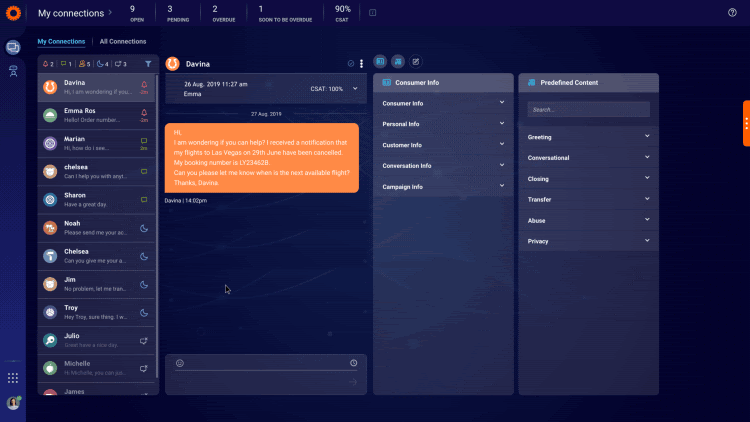 LivePerson Conversational Cloud Conversation Manager
Brands are also able to get quick, consistent answers to consumers by offering automations to agents with Conversation Assist and make agents more effective and efficient. LivePerson Conversation Assist brings Conversational AI to agents, and is a fully integrated solution within the Conversational Cloud that offers:
Knowledge Recommendations — recommend knowledge base articles inline in the conversation based on consumer intent, providing FAQ responses to commonly asked questions for both agent and consumer 
Bot Recommendations — recommend automations (any relevant bot) inline in the conversation based on consumer intent
SmartReply — recommended responses inline in the conversation based on consumer text (Powered by Google AI)
SmartCompose — autocomplete agent phrases based on agent text
Scale consumer journeys and define intent-based policies and routing in Conversation Orchestrator. The Conversational Cloud analyzes every turn of a conversation, using intent together with brand and consumer-specific data to determine the best next action.
The Dynamic Routing feature allows brands to create personalized policies that automatically transfer conversations to automations built in the Conversation Builder or route consumers to the most efficient human agent. Adding the Conversation Context Service gives brands the ability to store data points, such as conversational context, that can then be shared between bots and leveraged in the powerful dynamic routing policies.
Measure and improve
Performance Optimizer benchmarks and fine-tunes conversational operations
Uncovering actionable improvements using conversation data is key to driving business decisions for our customers. LivePerson has a number of different data and reporting tools to drive insightful outcomes.
Customize and extend 
Functions allows you to easily read from and write to your existing backend systems
The Conversational Cloud is open, integrated with backend systems. Functions allow brands to connect to external systems using APIs and pull in data that can then be used by bots or stored in the Context Warehouse for better routing policies. 
Integration Hub - iHub
Integration Hub (iHub) enables brand admins and LivePerson admins to explore, configure and enable integrations in a self-serve manner. It is a one-stop-shop where brand admins will discover, activate, configure and monitor integrations that power their conversational commerce journey. 
Connect to consumers on their preferred messaging channels
Social and Proactive messaging lets brands support and re-engage consumers
Provide a convenient, consistent experience across channels, including the ability to personalize the consumer experience with video and voice from messaging channels.
 The Conversational Cloud enables agents and bots to handle inquiries via the most popular messaging channels, giving consumers an easy way to ask questions and make purchases from any device, on their own schedule, and using natural language. Brands can be reached by consumers across a wide array of consumer touch points, including mobile apps, SMS, web, Facebook Messenger, Apple Messages for Business, WhatsApp and more - see a full list here.
Provide support directly from social channels with Social Messaging, and turn public posts into high-quality customer engagements and increase CSAT scores by 20%. With Social Messaging, you can unify all social care with other care programs.
Actively re-engage and make the right offer at the right time with Proactive Messaging. While dead-end notifications force customers to pick up the phone or visit a website if they want to engage, Proactive Messaging turns one-way SMS notifications into two-way conversations. Increase conversion rates for remarketing by integrating Proactive Messaging with your CRM and workflow engines to trigger personal, two-way conversations with consumers.
With the Conversational Cloud, brands can bring voice and messaging together to provide a better consumer experience. Give callers the option to skip the IVR and shift to messaging for an instant response. Or, if voice is the best channel to address an intent, manage both voice and messaging conversations from a single, unified workspace.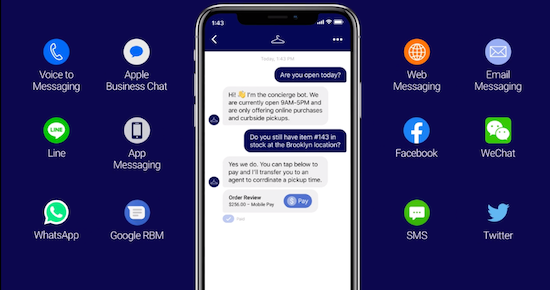 LivePerson Conversational Cloud Channels
 Voice
LivePerson will include voice in the Conversational Cloud as an additional channel for connection where brands can call out and consumers are able to call. By adding voice as a channel, Conversational Cloud creates a true continuous and omnichannel experience. Though our goal is that automations will solve 90% of consumer intents, Voice is still an important part of the consumer journey that the Conversational Cloud is built and equipped to manage
Missing Something?
Check out our Developer Center for more in-depth documentation. Please share your documentation feedback with us using the feedback button. We'd be happy to hear from you.