Conversation Copilot is a AI-powered set of tools, designed to help agents provide exceptional customer experiences. With its advanced features, Conversation Copilot can assist agents in resolving customer issues, improving their communication skills, and delivering personalized interactions that meet customer needs.
We are excited to announce the release of the Automated Conversation Summary feature in our Agent Workspace!
This feature provides agents with AI-generated summaries and has been designed to help agents quickly catch up on ongoing and historical conversations of previous customers handled by a bot or a human agent. The summary will include the customer's questions, concerns, key problems, and attempted resolutions by the bot or the previous agent across voice and messaging.
The summary can be accessed through the Summary Widget for ongoing conversations, and for historical conversations, it can be found above the transcript and under the Conversation History Widget. 
It's important to note that the summary is not editable in either of these areas.
With the Automated Conversation Summary feature, agents can now easily determine the current intent of the consumer without having to read through the entire transcript, which saves them time and effort. The summary is available for both ongoing and historical conversations, providing context and helping to resolve any ongoing issues.
This feature is expected to reduce conversation handle time, improve the agent experience during user hand-offs, reduce the time to respond, decrease the average number of agent responses, and increase CSAT. 
We believe that this feature will ultimately improve the efficiency and effectiveness of our agents, leading to higher consumer satisfaction and better business outcomes.
Note, as default, only conversations with a minimum of 10 messages would be summaries. This can be changed to a lower/higher number.
Ready to get started? Contact your LivePerson representative to discuss turning on this LLM-powered feature. We offer 30 days of Preview access for free. Your brand's 
account representative can start the Preview in the Management Console within Conversational Cloud.
Language support
Automated summaries are only supported for English.
Prerequisites
The LP Generative AI package should be enabled.
Enablement
Please reach out to your account team to discuss pricing and enablement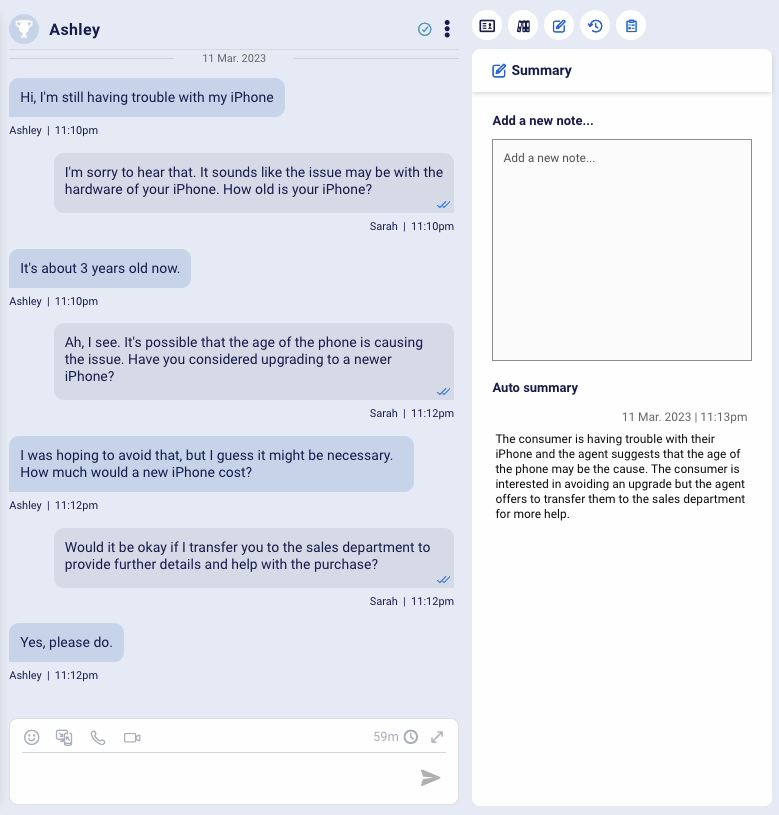 Automated Conversation Summary - Ongoing Conversations
Automated Conversation Summary - Closed Conversations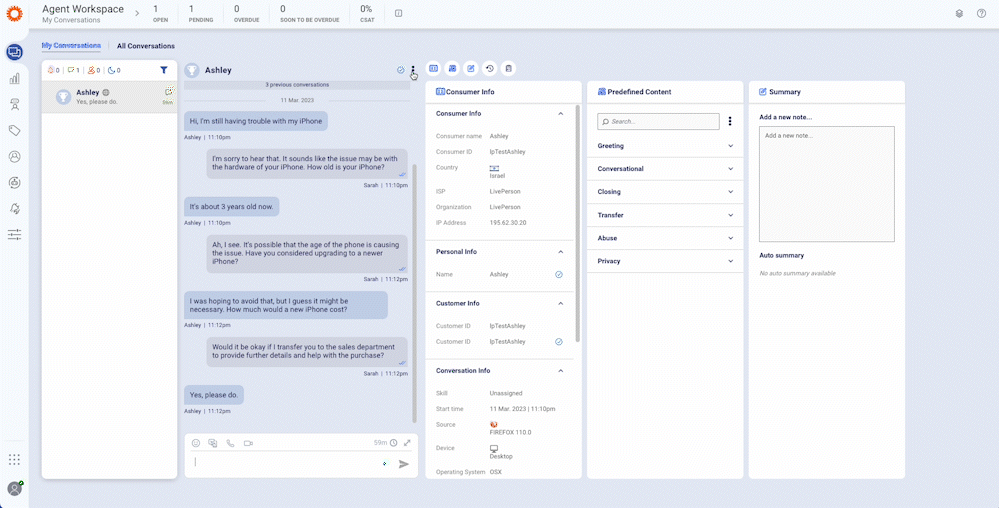 Automated Conversation Summary - GIF
Conversation Assist offers recommended bots and answers to your human agents inline in their conversations with consumers, and on-demand within a dedicated widget.
When your agents take advantage of these just-in-time recommendations, they become more efficient and save time. What's more, their conversational outcomes are improved and more consistent. Conversation Assist can even help to reduce the time to onboard new agents.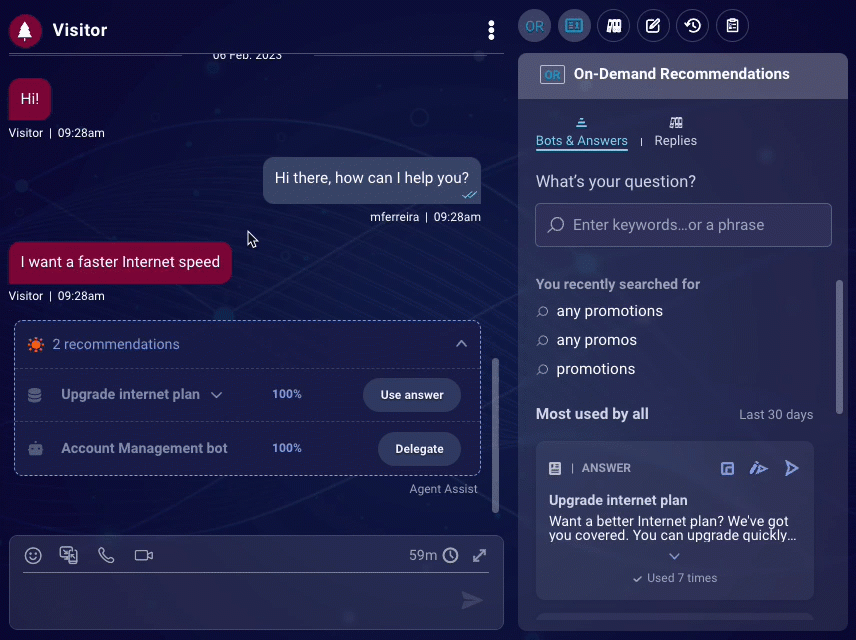 You can set up bot and answer recommendations in just a few clicks.
Missing Something?
Check out our Developer Center for more in-depth documentation. Please share your documentation feedback with us using the feedback button. We'd be happy to hear from you.