Installation guide
LivePerson Conversational Cloud Connector for Salesforce - installation guide
LivePerson Connector for Salesforce provides a unified and sleek agent workspace experience. Agents can login to Salesforce and directly engage with customers easily managing tasks like: accept incoming conversations across different messaging channels, seamlessly resolve customer issues & escalate/transfer conversations to other human/bot agents. Agents can communicate with consumers over familiar messaging channels within Salesforce. This includes all messaging channels supported, such as web messaging, SMS, WhatsApp, Apple Messages for Business, Facebook Messaging, brands' mobile app, etc. 
This guide provides an overview of the tasks that should be completed to enable the LivePerson Agent Widget in Salesforce. 
The connector for Salesforce is currently available as an EAP solution. If you are interested in enabling this for your brand, please complete the steps detailed below and contact your customer success manager for additional support with the setup. 
Step 1: Install the LivePerson embedded UI in Salesforce
Brands can either find the LivePerson Contact Center solution in Salesforce App Exchange or they could install the embedded UI using the provided link with the latest build.
Installation instructions 
Install the package using the link provided. Select Install for All Users when installing the UI.

Note
Selecting Install for All Users does not make the UI immediately available to all of your Salesforce users. This option makes it possible to enable LivePerson for users without encountering permissions issues. You still have 100% control of who can use LivePerson via Call Center configuration in Salesforce Setup.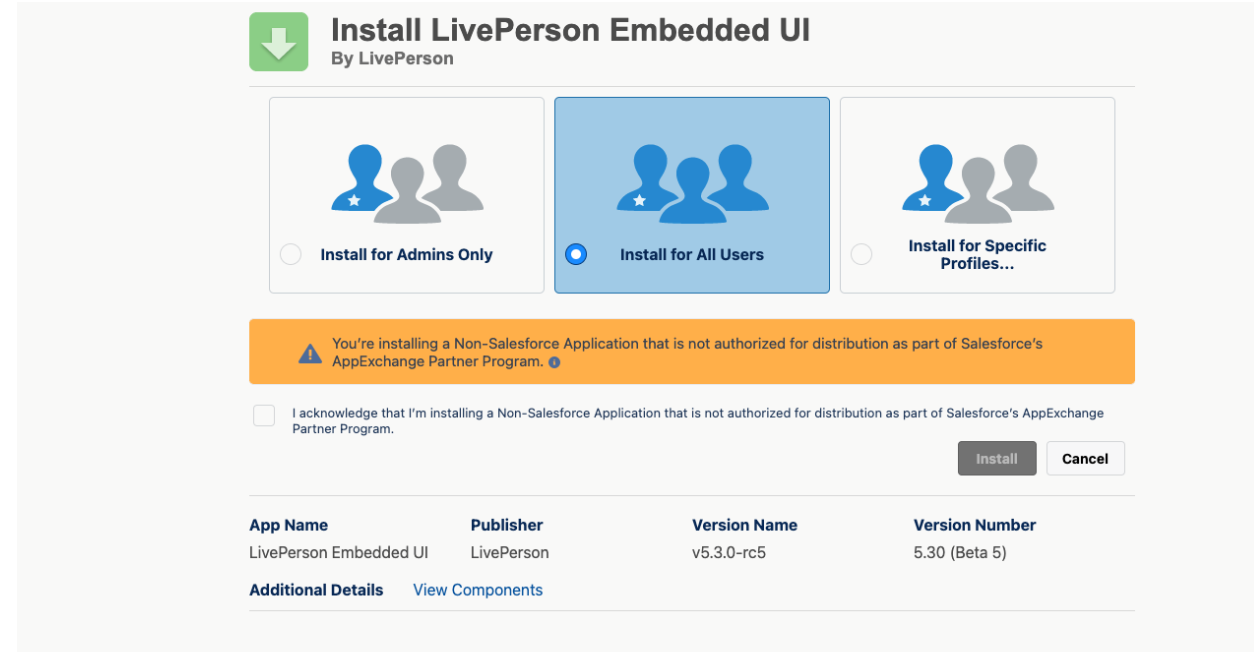 Salesforce connector - installation guide
In the Salesforce UI, click the Setup link in the top right.
In the quick search box, search for Call Centers and select LivePerson Embedded UI.
Select Manage Call Center Users.
A list of users enabled for LivePerson messaging displays.
NOTE: If this is a fresh install, the list may be empty. Select Add More Users to add users to the call center for LivePerson messaging.
Search for the usernames that should be able to use LivePerson Messaging, select them, and then click Add Users.
Your basic contact center is now configured! For teams leveraging Salesforce Classic you may stop here.
If you are using Salesforce Sales Cloud, start by navigating to App Manager in the setup page. 
You will find Sales Console listed in the list of apps. Click on the arrow -> Edit on the right side
Select Utility Items then Add Utility Item.
Add Open CTI Softphone and then click save.
Go to Sales console and find the LivePerson Agent window at the bottom. (Note: Agents will be logged into Ten-fold via SSO and will need to provide their LivePerson credentials and account to login to LivePerson)
If you are using Salesforce Lightning you must now add LivePerson messaging as a utility item to each Lightning app your agents are using.
Start by navigating to App Manager in the setup page.
Select the dropdown to the right of the Salesforce Lightning app you would like to update and select edit.
Select Utility Items then Add Utility Item.
Add Open CTI Softphone and then click save.
 
Step 2: LivePerson/Tenfold Account  Setup 
Please contact your Customer Success Manager for further assistance with the setup or fill out your details here and someone from our team will contact you shortly. 
Step 3: Ensure your Agents can login to their workspace in Salesforce
Share the user credentials with the agents and ensure they are able to login to the Conversational Cloud and then the application in Salesforce. 
See our FAQs for more information. 
Missing Something?
Check out our Developer Center for more in-depth documentation. Please share your documentation feedback with us using the feedback button. We'd be happy to hear from you.