Ticket submission is a useful channel for medium or low priority issues that don't require immediate attention. 
For high-priority issues that require immediate attention please use Live Messaging.
How to open a ticket
Log into the Conversational Cloud.
Expand the Connection Area by clicking the three vertical dots on the right of the browser.
Click on Technical support cases (case icon) and then click on 'create new case'.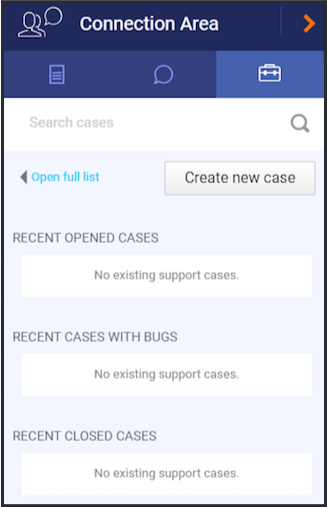 Ticket creation via the Connection Panel
All users and user types in your organization have the the ability to report technical issues to the LivePerson Support team directly via the Connection Panel. Managing the ticket creation permission is done by tailoring the user roles under the Profiles tab.
For more information about enabling ticket creation, click here.
Helpful information
When we investigate your ticket, we often require information that only you can provide. This article is meant to provide you with tools and insights on what sort of information is helpful.
We appreciate you collecting the information as it helps us investigate the ticket as soon as it is created, and it shortens the ticket handling time overall. Providing many details while the ticket is opened will reduce our need to inquire for more information, thus allowing us to reach a resolution quickly.
The Basics
Description of the issue - how is the existing behavior different from the expected?
Defined impact of the issue. For example:

Number of agents impacted, out of the total(e.g. 2 out of 100)
Percentage of conversations impacted
The severity of the impact on your operation or business

Steps to replicate the issue
Is the issue intermittent or consistent (can you recreate it on demand?)
The time the issue was first noticed
Recent changes and the timeline. This can include:

Modifications to your Conversational Cloud configuration
Changes on your website or application
Recent increase or decrease in your staffing 
A launch or decommission of products and campaigns

Screenshots or a recording of the issue as it manifests
The error message encountered
You are encouraged to submit any information you deem relevant in the ticket. Our support team will contact you with request to complete any information we deem crucial to the investigation. We thank you for your collaboration.
Missing Something?
Check out our Developer Center for more in-depth documentation. Please share your documentation feedback with us using the feedback button. We'd be happy to hear from you.