Week of October 18th
New updates: Voice Bots, Salesforce Connector, Report Center and updates to Navigation Menu
Exact delivery dates may vary, and brands may therefore not have immediate access to all features on the date of publication. Please contact your LivePerson account team for the exact dates on which you will have access to the features.
The timing and scope of these features or functionalities remain at the sole discretion of LivePerson and are subject to change.
Features
 Favorite Predefined Content
LivePerson is addressing challenges encountered by agents who work with diverse skills, lines of business, and use cases. 
Many brands have a significant amount of Predefined Content (PDC) in their accounts, making navigation an unmanageable task for agents. Even with categorization, agents often spend time scrolling through a lengthy list of PDCs to find the required content.
To improve this and enhance agent productivity, we are introducing this new feature in the Agent Workspace. 
Agents now have the ability to mark specific PDCs as 'Favorites,' allowing them to create a personalized category for frequently used content. 
This feature is aimed at significantly improving agent efficiency and optimizing their interaction with PDC.
Limitations
For users using title-only mode for PDC and decided to enable this feature, the ability to have tooltips to see the full content, wouldn't be available.
Enablement
Contact your account team to enable this feature.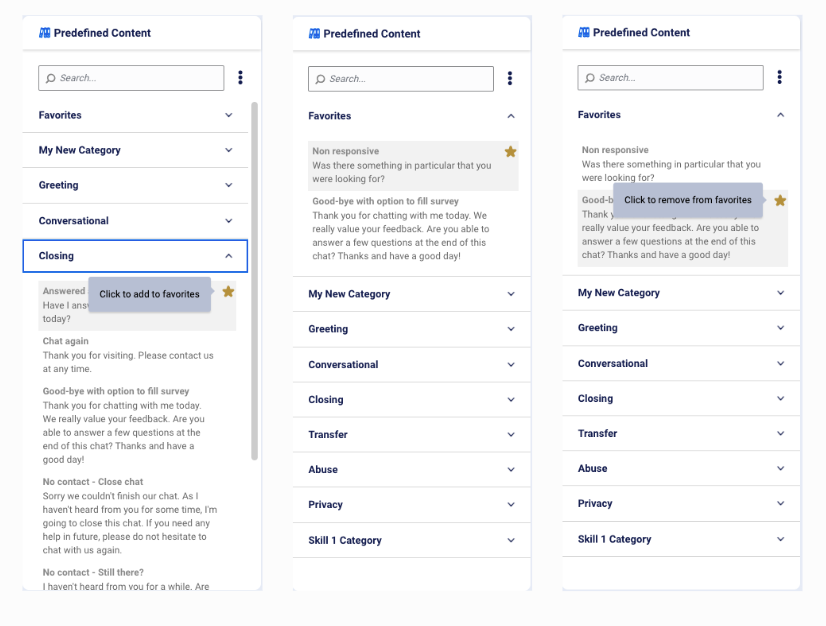 Favorite PDC
Enhancements
Image Rotate
Users can now rotate an image left and right in 90 degrees through the file Gallery.
Enablement
This feature is enabled by default.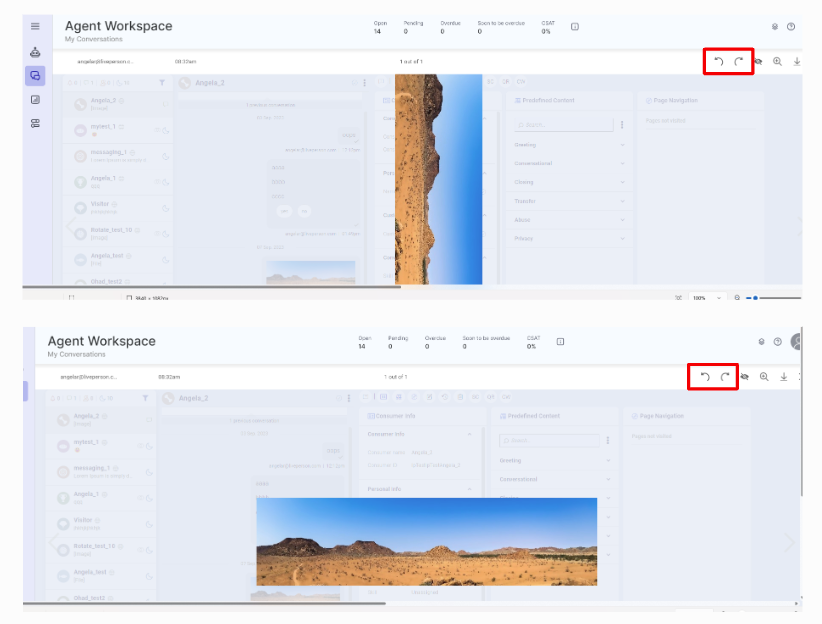 Image Rotate
Click to copy the automated summary
A new click-to-copy icon was introduced, positioned alongside the automated summaries, enabling agents to conveniently click on the auto-generated summary to copy it to the clipboard. 
This icon has been incorporated into both the Summary widget and the transcript area.
Enablement
This feature is enabled by default.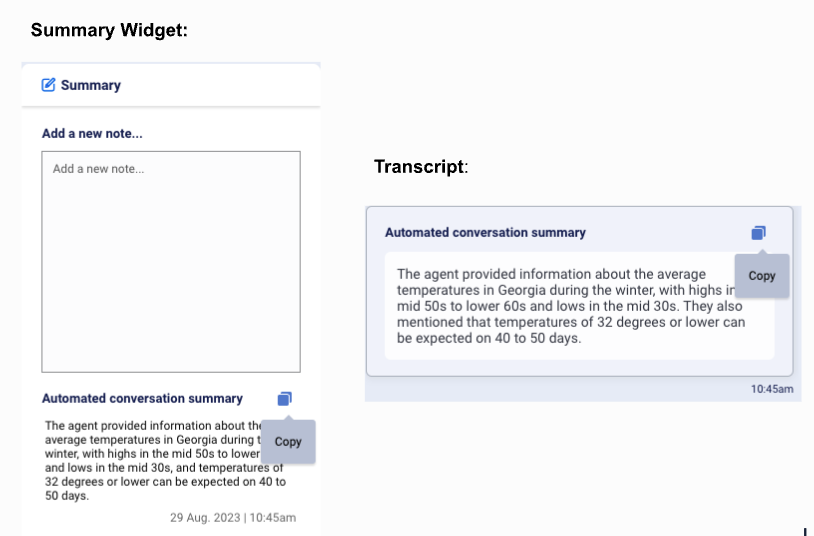 Click-to-copy Automated Summary
Features
LivePerson Connector for Salesforce provides a unified and sleek agent workspace experience. Agents can login to Salesforce and directly engage with customers easily managing tasks like: accept incoming conversations across different messaging channels, seamlessly resolve customer issues & escalate/transfer conversations to other human/bot agents. Agents can communicate with consumers over familiar messaging channels within Salesforce. This includes all messaging channels supported, such as web messaging, SMS, WhatsApp, Apple Messages for Business, Facebook Messaging, brands' mobile app, etc. 

We recognize that your agents may need to access other call center applications along with LivePerson's messaging capabilities. With that in mind, we have enabled support for the Salesforce Lightening Aura component which provides the flexibility to decouple this from the Open CTI and allow for agents to assigned to both your third party call center app and our LivePerson app at once.

For more details please reference the Salesforce Connector overview and installation guide.
Features
Voice bots - Enable your Voice settings in one central place
Need to configure voice specific settings such as call redaction and recording, phone numbers or earcons/audio cues and default voice for your account? You can now manage a few of these settings via the Channel setup in the left navigation in Conversational Cloud.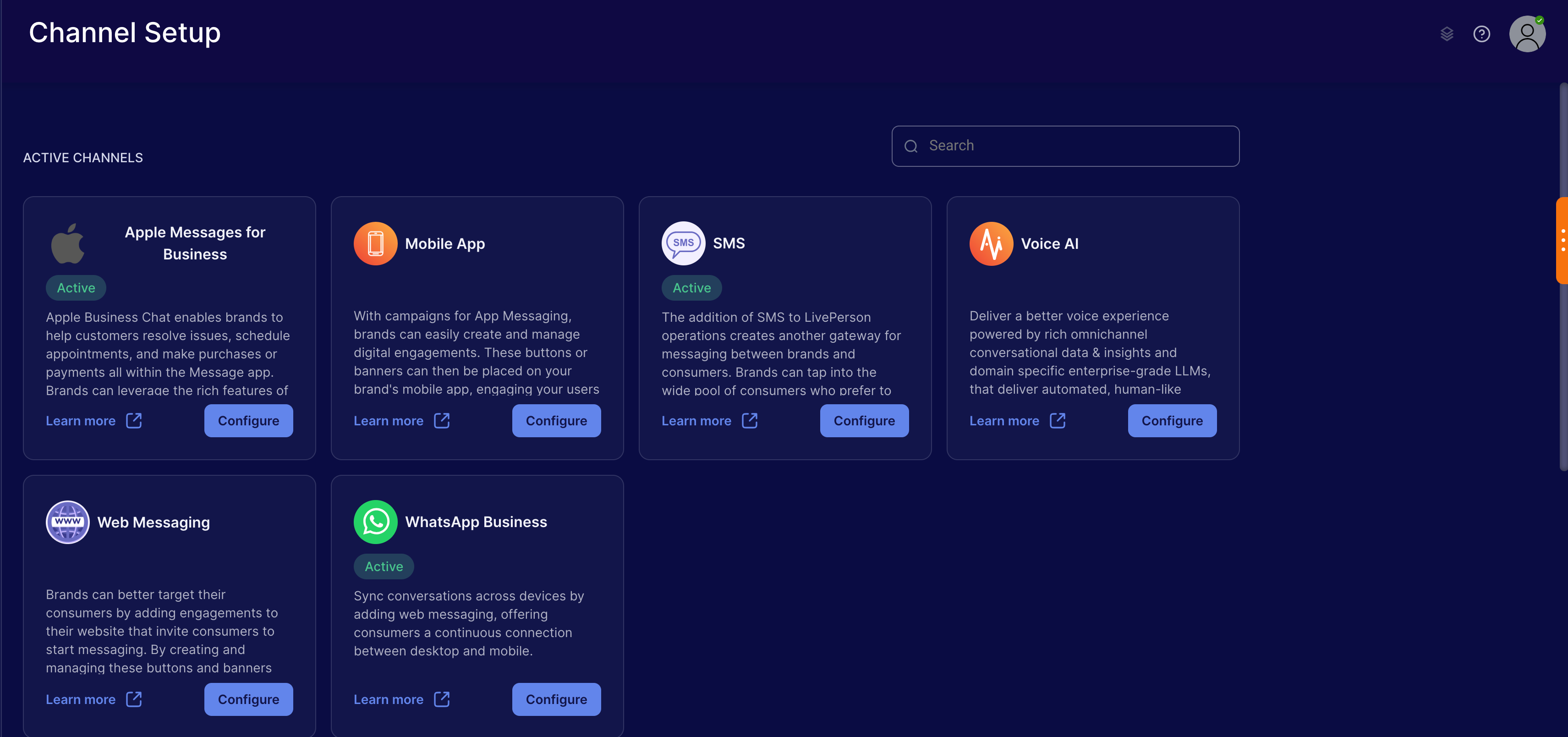 With this release, you may enable call recording and redaction settings. By default, when turned on, call recordings will be stored for 30 days. If you require call recordings to be saved beyond 30 days, or for call redaction, you will require a Voicebase account to be activated.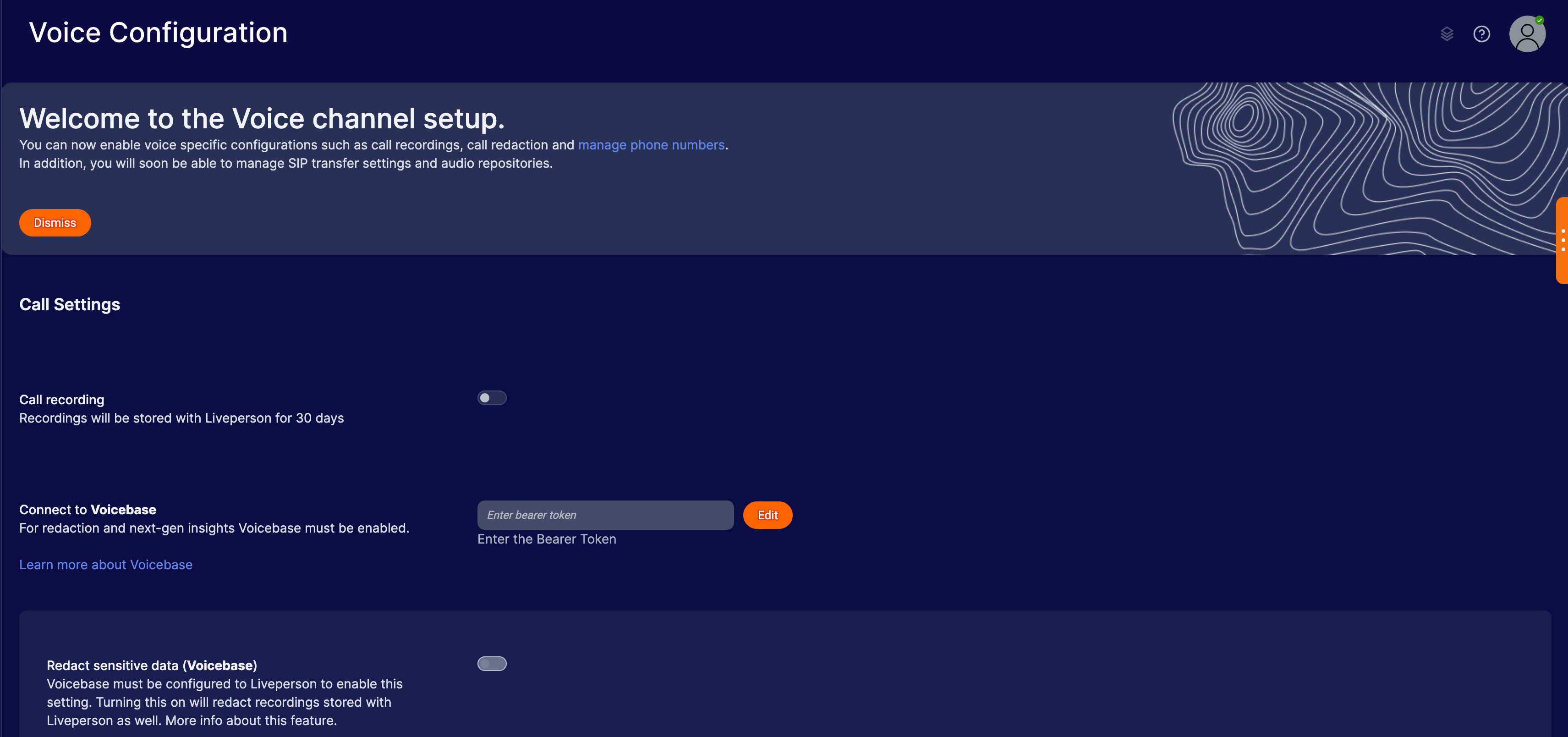 Voice bots - Reach your Spanish-speaking consumers
¡Ya está aquí! Spanish-language Voice bots are now supported in three locales:
Spanish - Mexico
Spanish - Spain
Spanish - United States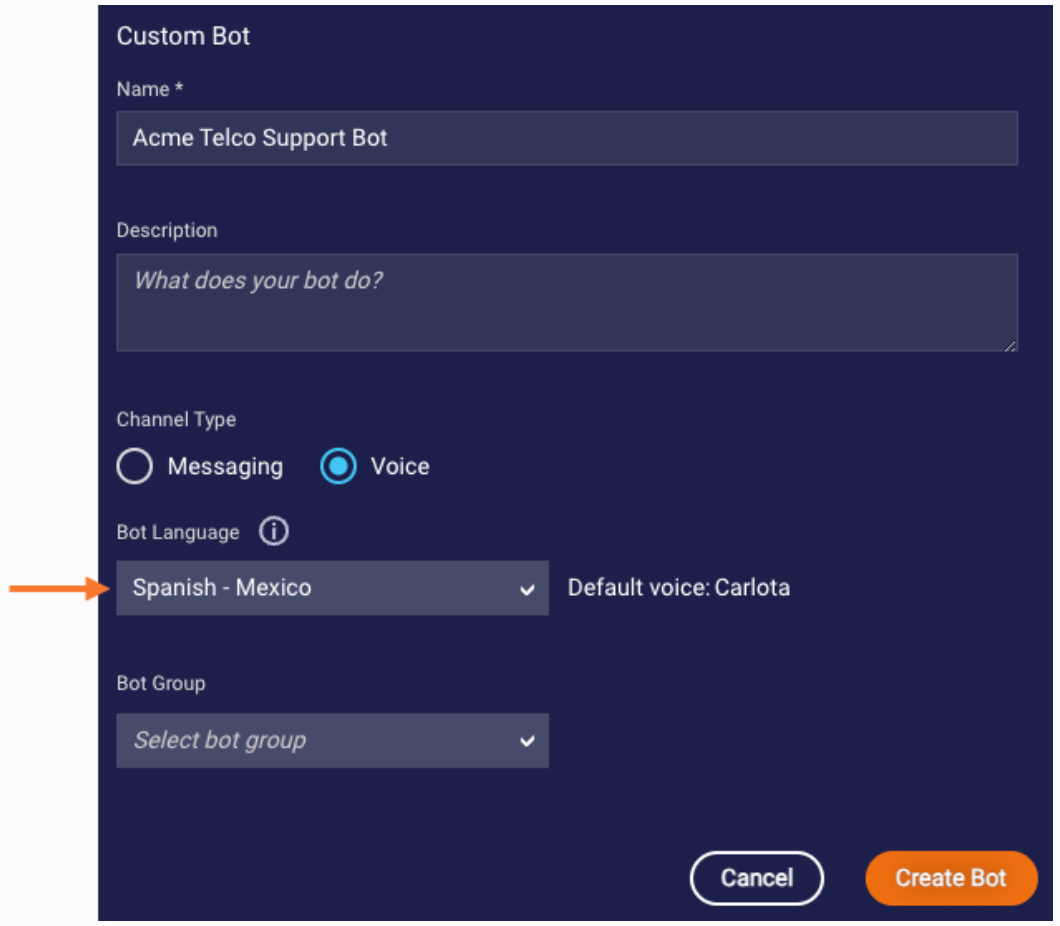 When you create a Voice bot, you'll find that more languages are available—Chinese and Arabic to name just two—but support for other languages is still experimental. Test thoroughly before using them in Production scenarios.
Voice bots - Drive the bot flow using the consumer's language
At the start of a voice conversation, you often want to detect the consumer's language and use that to drive the bot flow. Consider a conversation like this one:
Bot 1: How can I help you today?
Consumer: ¿Hablas español?
Bot 2: ¿Cómo puedo ayudarte?
Consumer: ¡Excelente! Estoy llamando porque quiero una velocidad de Internet más rápida.
In the flow above, English-language Bot 1 detects the language of the consumer's first message and immediately transfers the conversation to Spanish-language Bot 2.
You can power this behavior using the new "Language detected" condition match type. This new condition match type triggers the specified Next Action when the consumer input matches the language (and optionally the locale) that you specify in the rule.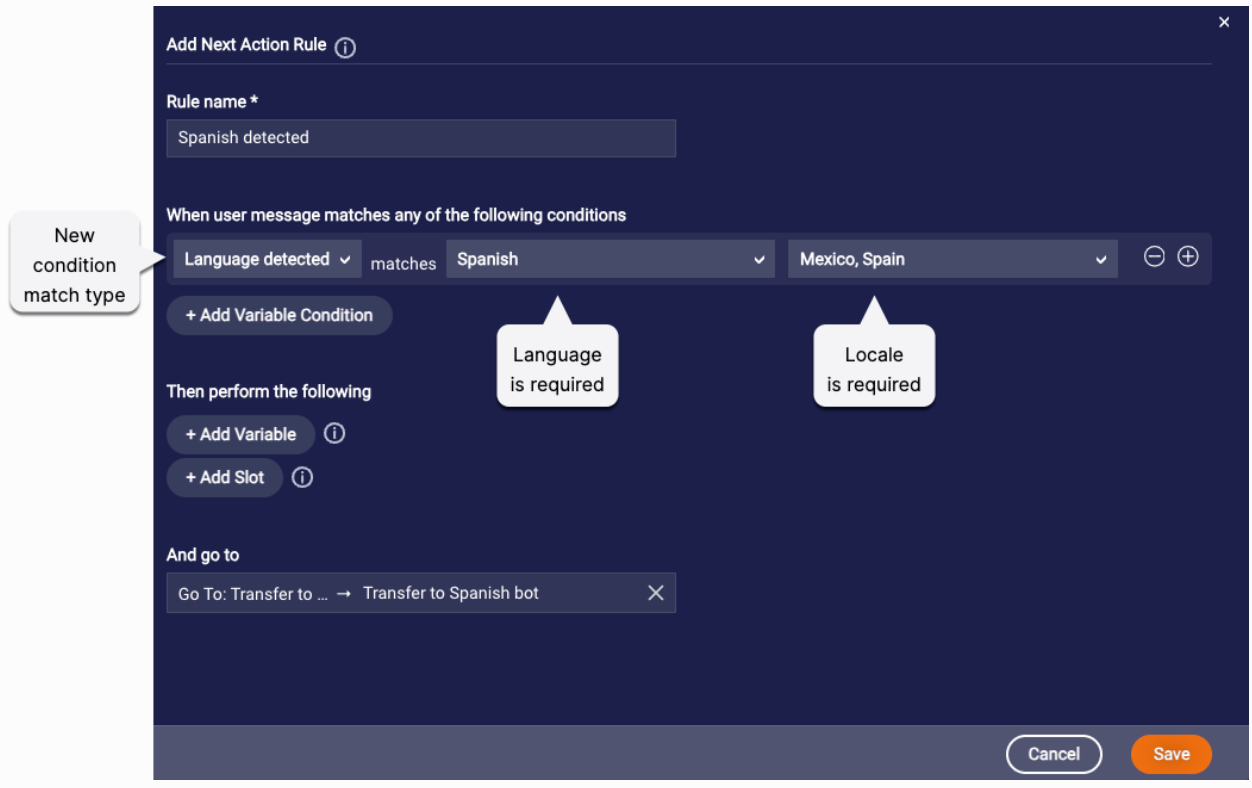 The new "Language detected" condition match type isn't available by default. Contact your LivePerson representative to enable this feature. Also be aware that it's only available in Voice bots.
In our example conversation above, we directed the flow to a dialog in the English-language bot that performs a manual transfer to a Spanish-language bot using an Agent Transfer interaction. 
This brings up another important, final point: Take note! The Agent Transfer interaction is now available in Voice bots too. You can use it to perform a manual transfer to another Voice bot via the skill ID. (Automatic transfers to other Voice bots can be performed via a bot group. And transfers to human agents are performed via the Transfer Call interaction.)
Voice bots - New options for handling consumer silence
In automated voice conversations, you always want to make things easy for the consumer. Since doing nothing is easiest of all, you might want to take the consumer's silence as direction for how to direct the bot flow. For example, the bot might say something like:
For Spanish, press 2. For English, press 1 or simply stay on the line.
For Sales, press 2. For Service, press 1 or simply stay on the line.
These kinds of "stay on the line" scenarios are now possible thanks to a few, new advanced settings in Speech and Audio questions:
If you want the bot to move ahead to the next interaction in the dialog when there's no response from the consumer, turn on the new Time out and proceed if no response toggle in the question. Then specify the amount of time to wait (the timeout) before proceeding to the next interaction.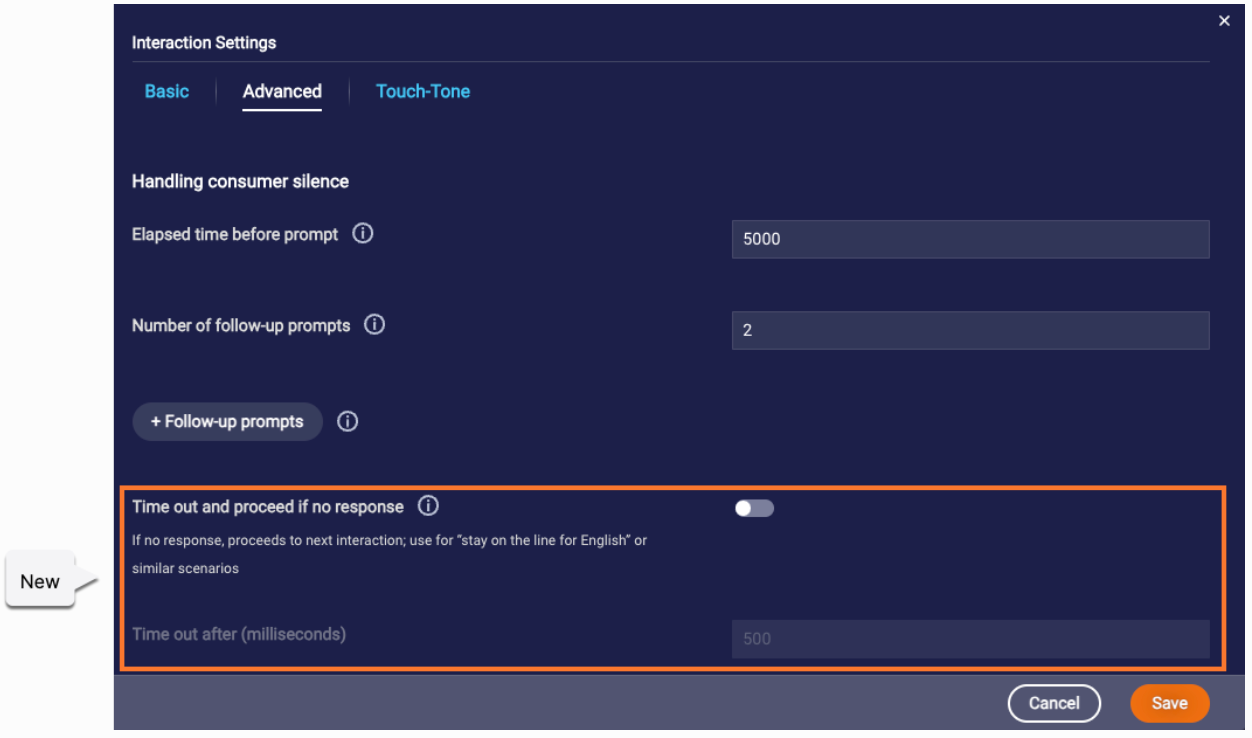 Keep in mind that there's another way to handle consumer silence: You can prompt the consumer to respond to the question. There are settings for this too, but they aren't new: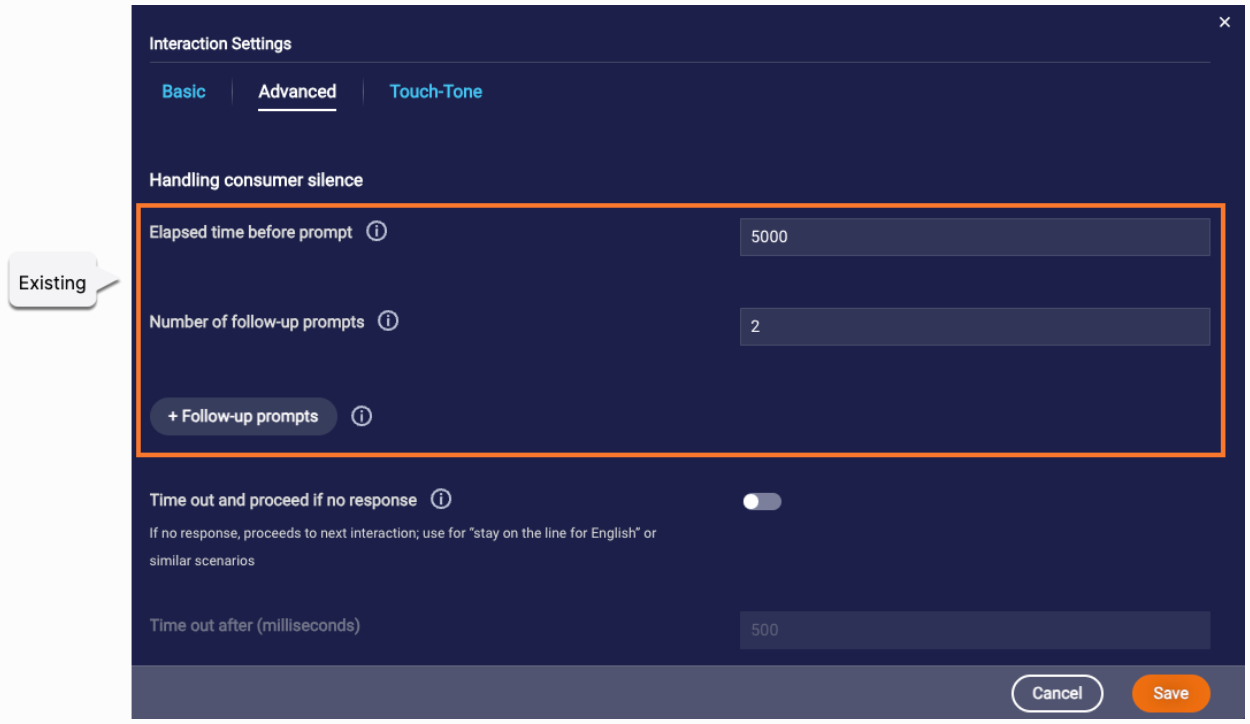 So, you can proceed to the next interaction after silence for a certain amount of time. Or, you prompt the consumer to respond. You must choose one approach or the other. 
This constraint is enforced by the UI. If you turn on the new settings for proceeding to the next interaction after some silence, the existing prompt-related settings are disabled and not used. And vice versa.

Manager Workspace- New filtering option for Voice Conversations 
Managers can now filter the conversations data based on the channel type and can review the voice or messaging conversations accordingly. For more information, please review the filters in the Manager Workspace.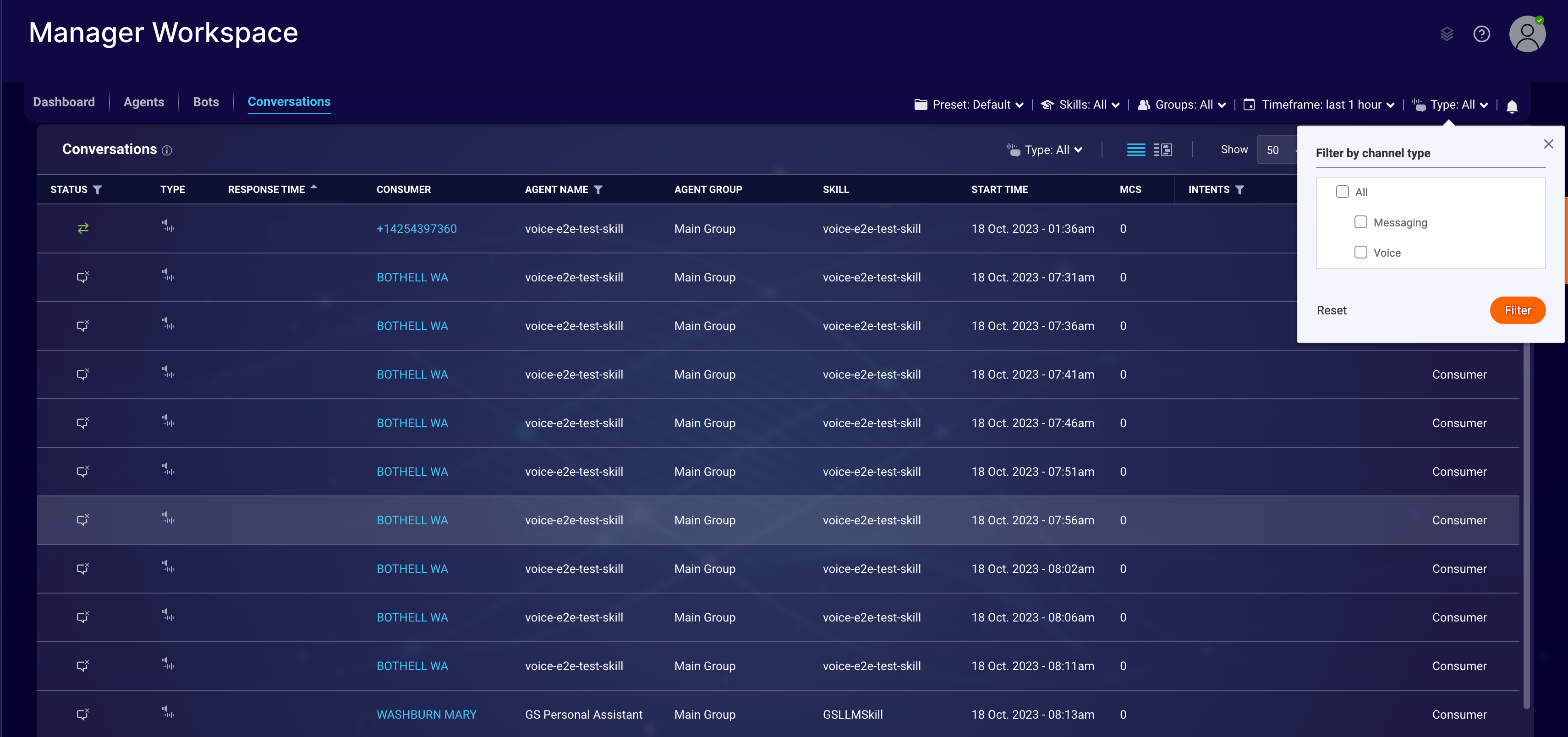 Features
Liveperson is constantly adding and evolving Report Center and adding new features and metrics. Our focus is to deliver more and more metrics from MCS and provide a single source of truth for conversation metrics for our brands. 
Below are the key points and improvements included in this release for Report Center:
1. Search with ConversationId to view Transcript Viewer.
2. Conversation drill down: Choose aggregated data from bar and line charts to filter down to their associated conversations.
3. Conversation List: Option to customize your columns in the conversation list associated with the accounts. New metrics are added to the list and we plan to add more in our future release. 
4. Stacked bar charts for multi-dimensional usage of measures.
5. New Release metrics: 10 new dimensions and measures associated with conversations.
6. Bug fixes: Auto bar chart expansion on usage, Skill id population changes to Skill Names, aggregation fix on sparkline charts, fix to transcript viewer. 
The next release will focus on survey and response metrics in Report Center.
To enable the Report Center, please contact your LivePerson account manager. For more information, click here.