Week of June 21st
New updates: Conversation Builder, Knowledge AI
Exact delivery dates may vary, and brands may therefore not have immediate access to all features on the date of publication. Please contact your LivePerson account team for the exact dates on which you will have access to the features.
The timing and scope of these features or functionalities remain at the sole discretion of LivePerson and are subject to change.
Features
Smarter prompts for Generative AI: Using your brand name and industry
We've enhanced the prompts that KnowledgeAI and Intent Manager send to the Large Language Model (LLM) service to include:
Your brand's name (e.g., Acme Telecommunications)
Your industry (e.g., Telecommunications)
Our research has found that these two types of info help to keep responses specific to your brand and reduce the chance of hallucinations. As a result, KnowledgeAI answers enriched via Generative AI are even better. And so are the training phrases created via Generative AI in Intent Manager.
From where does the prompt get your brand name and industry? You enter and change this info in the Generative AI Enablement section in the Management Console. 
If you're new to our Generative AI features, you'll be asked to provide your brand name and industry when you activate the features. If we can populate this info for you at that point, using data from our backend systems, we will do so. Please check it, or enter it if needed.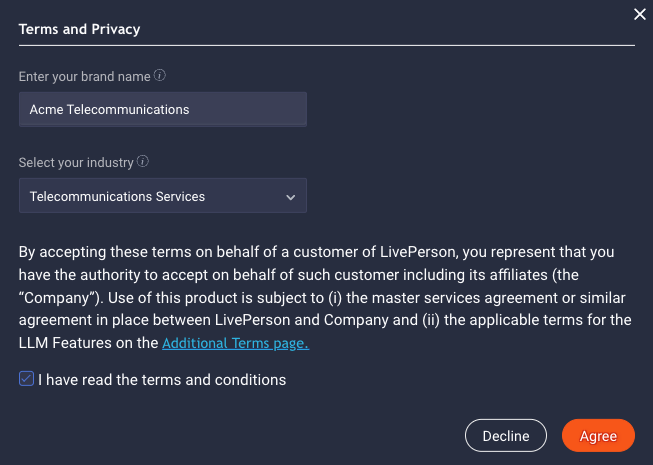 If you're already using our Generative AI features, we've manually populated your brand name and industry for you. Please check it and change it if desired. You can do this in the same general area, under Account details.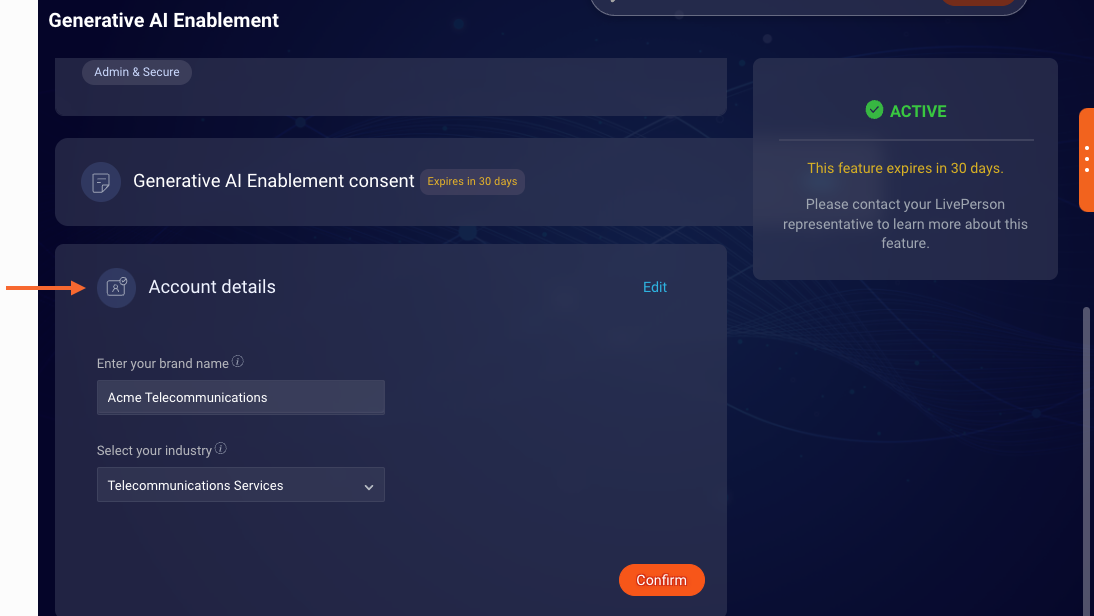 Activate our Generative AI features to be able to import Web pages and PDFs
Want to import Web pages or PDFs into a knowledge base? This is now only possible if you activate our Generative AI features.
If your interest in Large Language Models (LLMs) and Generative AI is piqued, don't hesitate to get started with LivePerson's trustworthy solution. We continue to roll out new features and enhancements that support safe, responsible, and equal AI. Join us on the journey.
Populate a knowledge base by uploading a web page from your computer
Using our Generative AI features? If so, this info is for you. 
You can now populate a knowledge base with the content in a web page that's stored on your computer. (Previously, you had to specify the URL of a publicly accessible web page.)