Getting started with intents
The vision of the intent-driven business is to fundamentally change how brands understand and act on what their consumers want and need—not through proxies like website click patterns—but with consumers' own intents. LivePerson's Intent Manager allows you to do this. And you can get up and running very quickly with prebuilt domains.
What's Intent Manager?
Intent Manager accurately understands what consumers want. It empowers you to:
Build an intent taxonomy
Analyze the most popular consumer intents
Optimize how well they are being fulfilled
Discover intents that can or should be automated
Intent Manager's proprietary natural language understanding (NLU) engine extracts consumer intents at every turn of the conversation. It comes pre-configured for a variety of industries, to automatically understand a high percentage of consumer intents entirely out of the box. It offers flexibility for data scientists, content creators, and non-technical employees to fine-tune or configure custom intents from a simple interface.
Real-time intent data empowers you to make important business policy, process, and product-related decisions, and to automate a high percentage of consumer interactions when used in conjunction with LivePerson's Conversation Builder.
Getting started
Step 1: Access Intent Manager
Log into the Conversational Cloud.
Open the menu on the left side of the page, and select Automate > Intent Manager.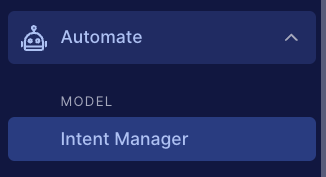 Step 2: Create a domain by selecting a prebuilt domain
There are several, industry-specific domains: 
Telecommunications
Purchase Product
Finance
Airlines
Insurance
There is also a generic domain called Cross-vertical. This is a good starting point to see how the tool works, especially if your business doesn't fit into any of the other categories.
To add a prebuilt domain
1 - Locate the domain list in the Intent Manager dashboard, and click Add a domain in the upper-right corner.
2 - In the Add Domain window, select the Prebuilt domains tab.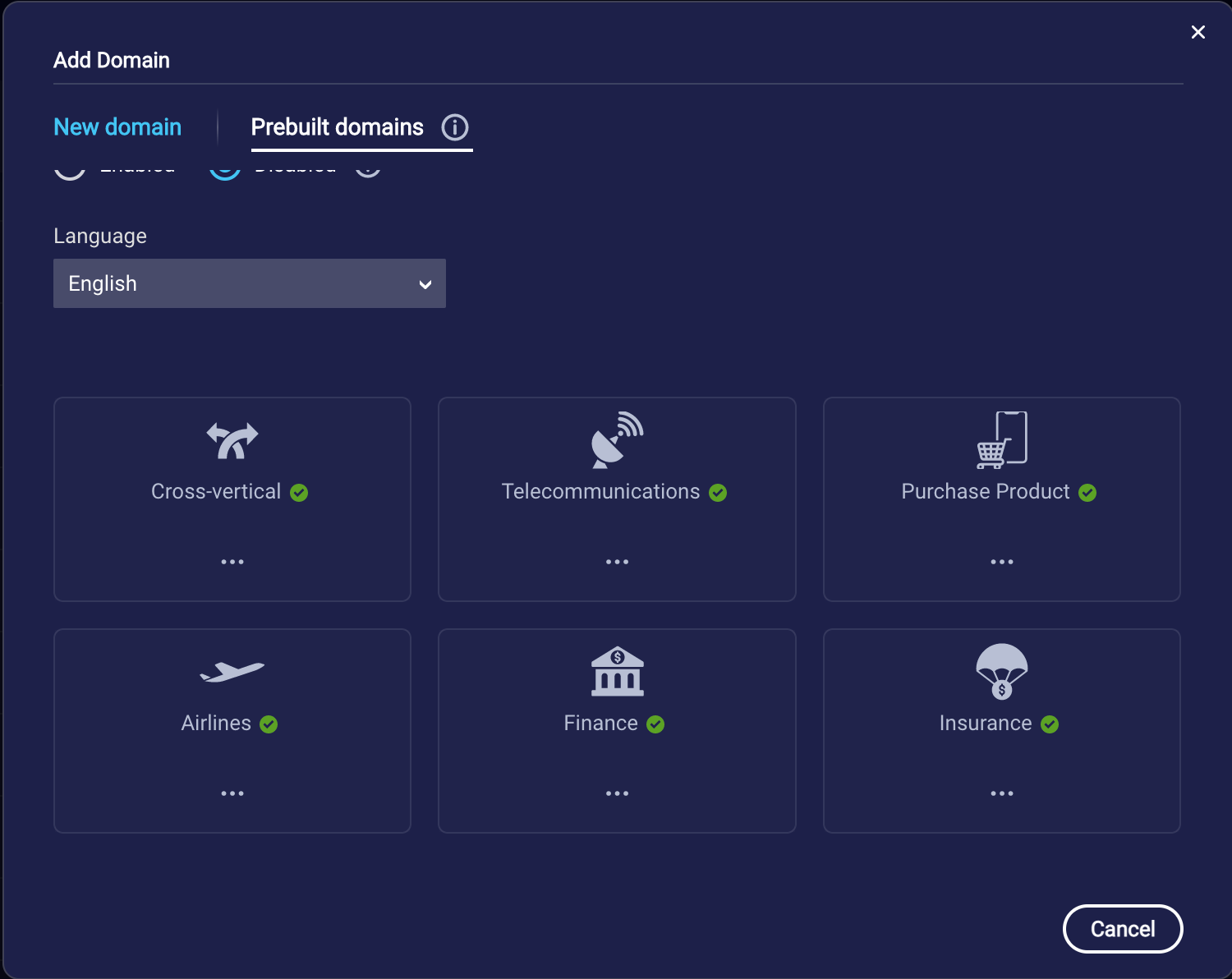 3 - Move your mouse over the desired domain. Then click Preview to see a description of the domain and some example intents. This helps you to verify that the domain is one you want.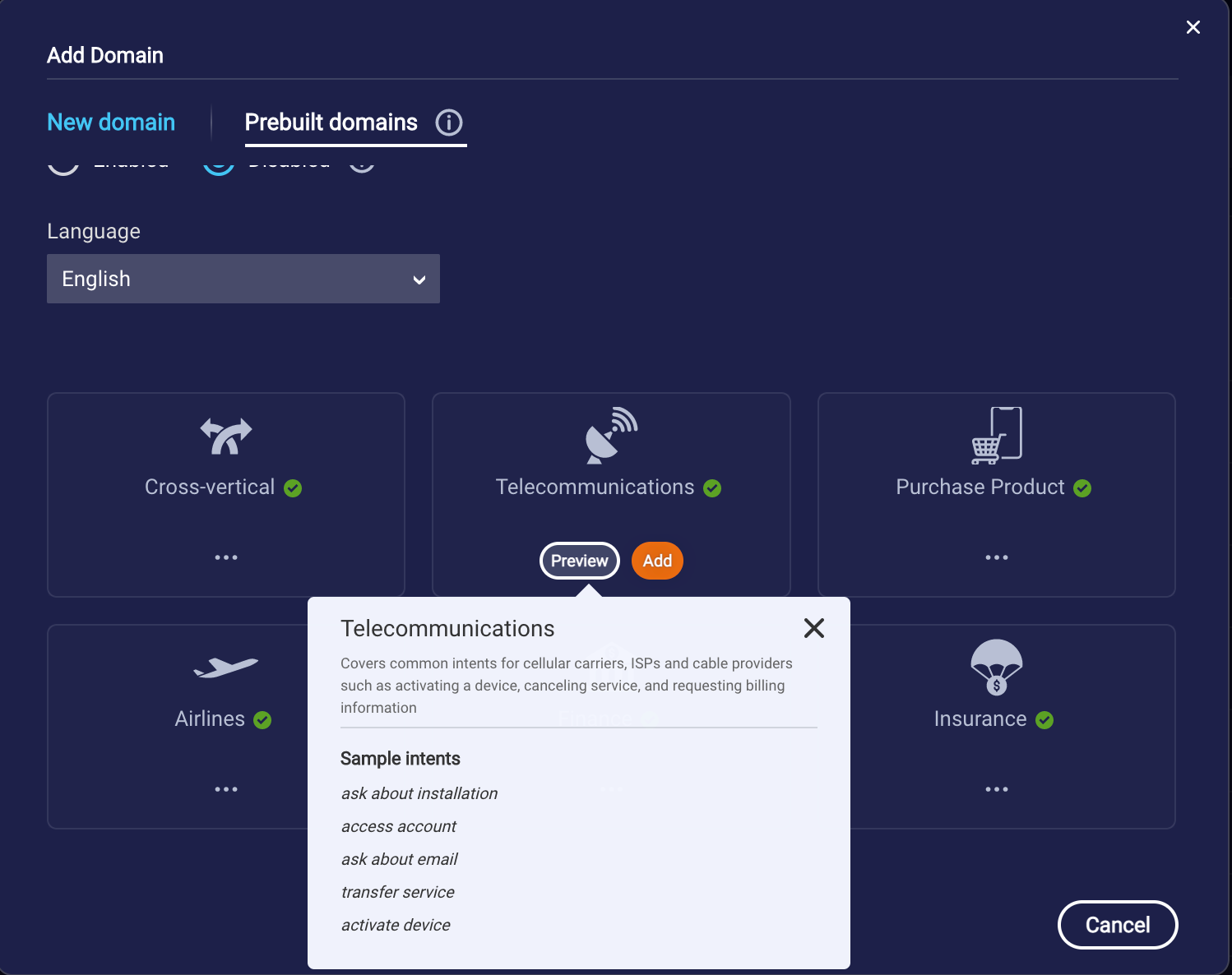 4 - Click Add.
You're all set with your first domain!
Note that, if you don't want to create a domain with a prebuilt domain, you can also create a domain manually or using an import file. See here for more details.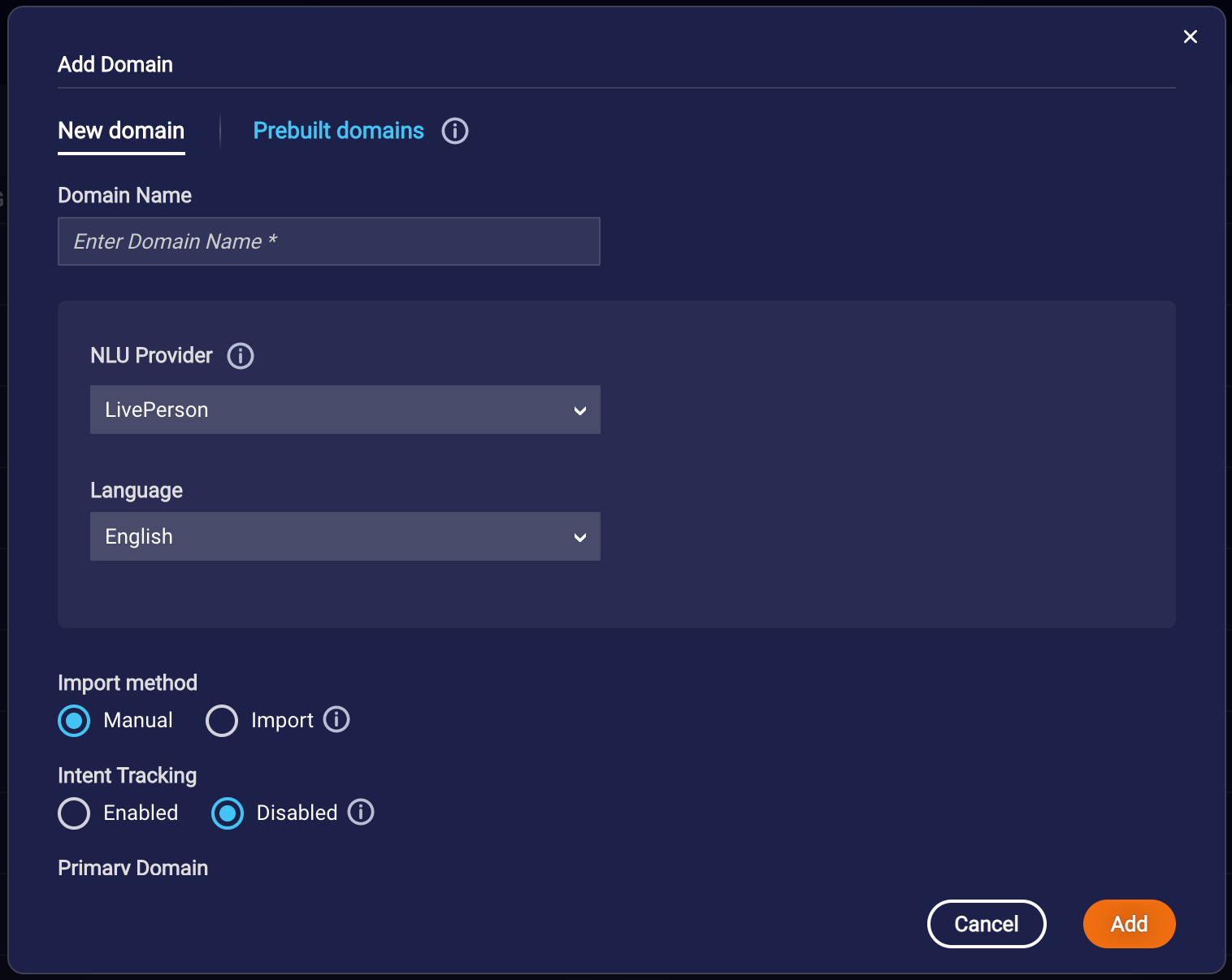 Step 3: Get to know the dashboard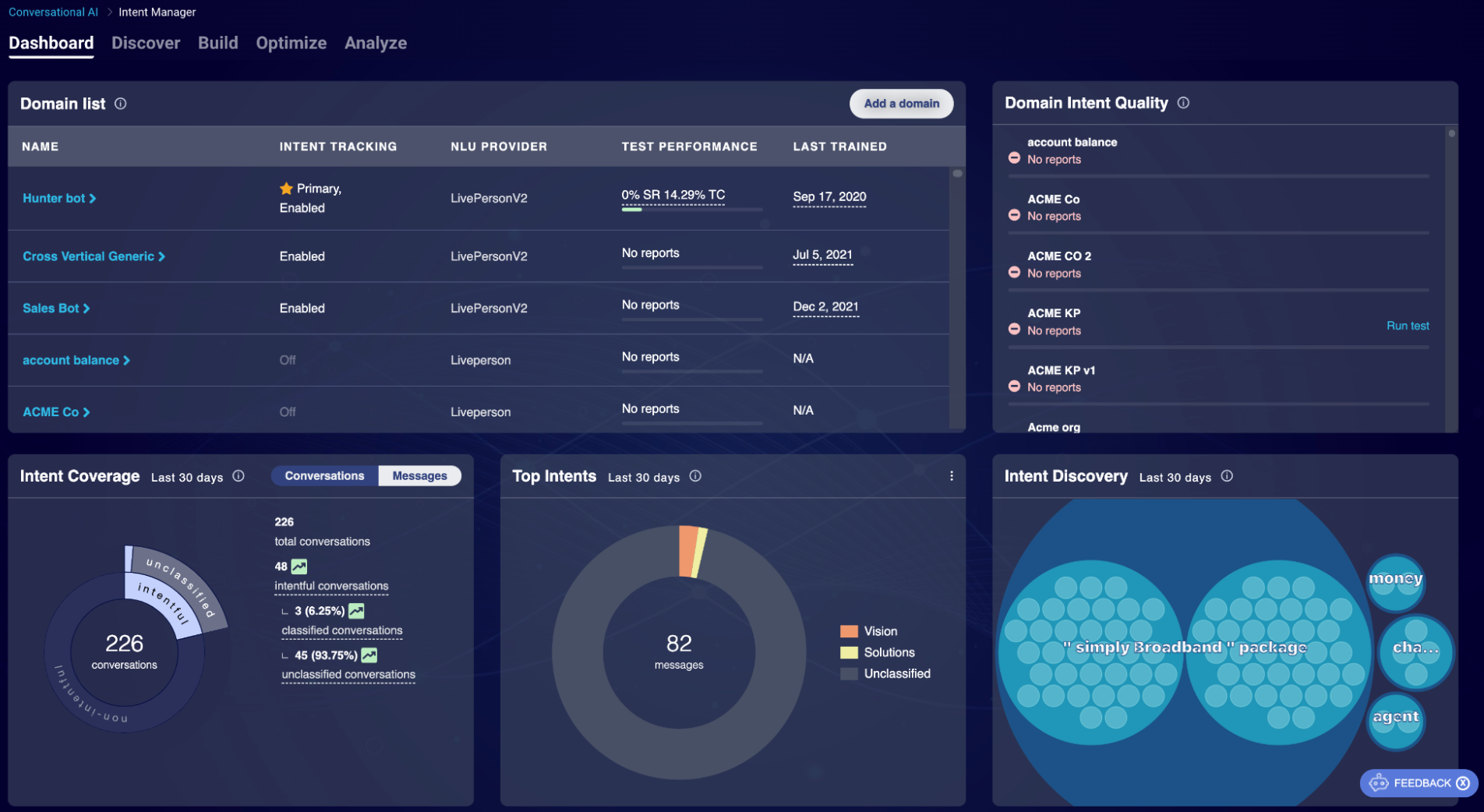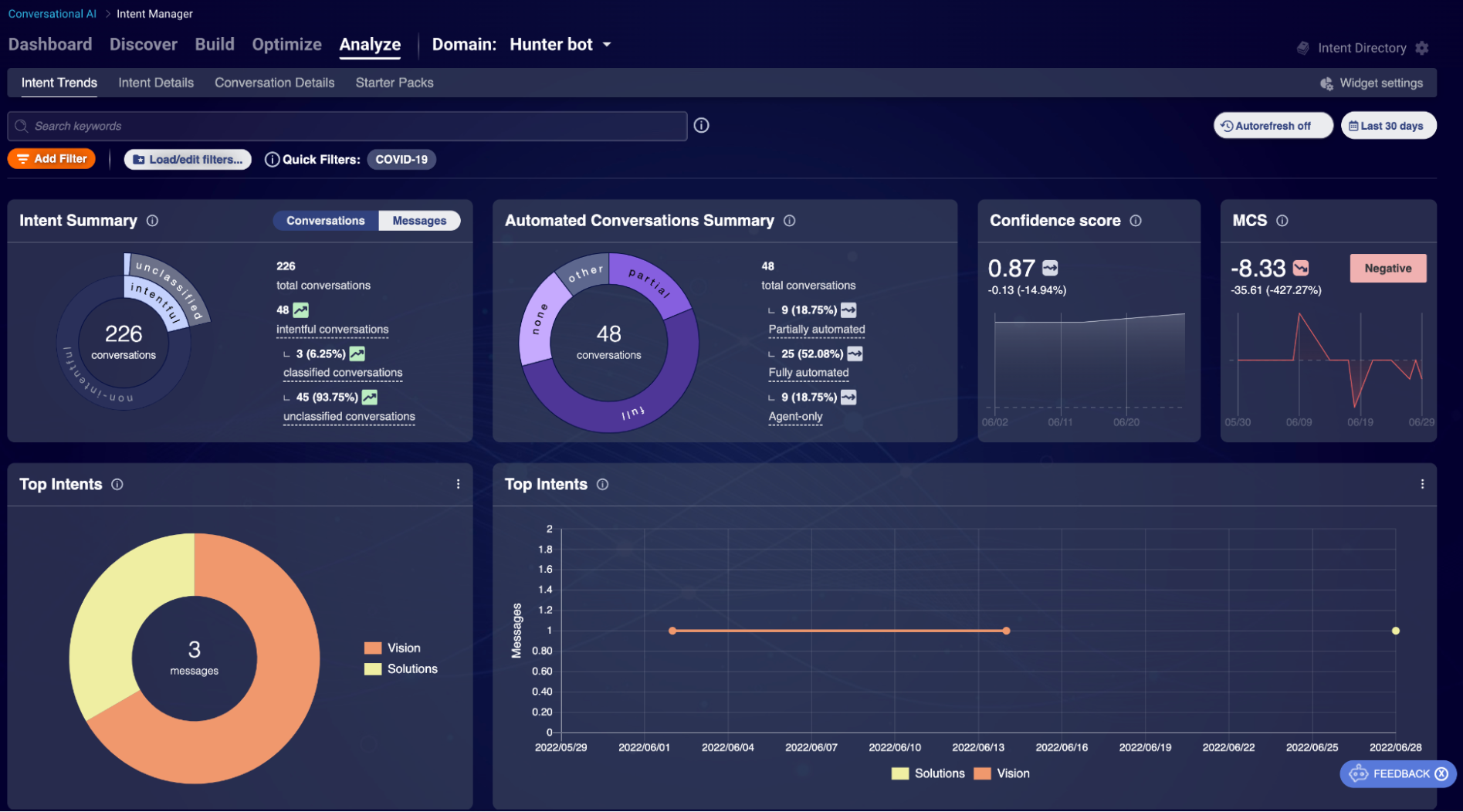 MAIN TABS: There are five main tabs: Dashboard, Discover, Build, Optimize and Analyze. Dashboard gives you an overview of all your domains. Discover is where you can find new intents and classify unclassified messages to intents. Build is where you build intents and training phrases and train your model. Optimize is where you can review the annotations and add them to intents. Analyze is where you can analyze your customer data.
DOMAIN SELECTOR: You are able to select a specific domain to view the data only for that domain.
SEARCH: You are able to search for keywords in messages or metadata like conversation IDs.
FILTERS: When you add a filter, you will see many different data points to filter by skills, groups, and agents.
WIDGET SETTING: You are able to customize your dashboard by selecting the metrics you want to see.
AUTO REFRESH: The auto refresh setting lets you set how often the dashboard refreshes. Setting it to the lowest time of 15 seconds will give you a live view into your intents.
TIME RANGE: You have three options to select a time range to filter your intent data.
Next steps
Missing Something?
Check out our Developer Center for more in-depth documentation. Please share your documentation feedback with us using the feedback button. We'd be happy to hear from you.