Week of October 31st
New updates: Automatic Messages, Conversation Builder, Knowledge AI, Web Messaging, InApp Messaging
Exact delivery dates may vary, and brands may therefore not have immediate access to all features on the date of publication. Please contact your LivePerson account team for the exact dates on which you will have access to the features.
The timing and scope of these features or functionalities remain at the sole discretion of LivePerson and are subject to change.
Enhancements
Smart Control with Automatic Messages
We're excited to introduce "Smart Control" for Automatic Messages. This is a significant enhancement to our Messaging Platform, empowering brands to engage with their customers more efficiently. With this update, you now have more control over automatic messages, making your customer interactions even more personalized and effective.
Enhancement Highlights
Multiple Auto Messages: Brands can now configure multiple automatic messages for distinct customer touchpoints. Whether it's a customer waiting in the queue or dealing with agent unresponsiveness, you have the flexibility to craft specific messages tailored to each situation.
Customized Frequency: Tailor your customer experience further by setting the frequency of automatic messages. Define when and how often customers receive these messages, ensuring they are timely and relevant.
Message Repeat Options: You can also set the number of times an automatic message should repeat for customers. Whether it's a gentle reminder during a queue wait or follow-ups for agent unresponsiveness, you have full control over the message repetition.


Applicable to 
1. Customer Waiting in Queue:
Provide informative and reassuring messages to customers waiting in the queue. Keep them engaged and informed about the estimated wait times and available options.
2. Agent Unresponsive:
Address concerns when agents are unresponsive by sending automated messages to let customers know that their concerns are being attended to, even in the agent's absence.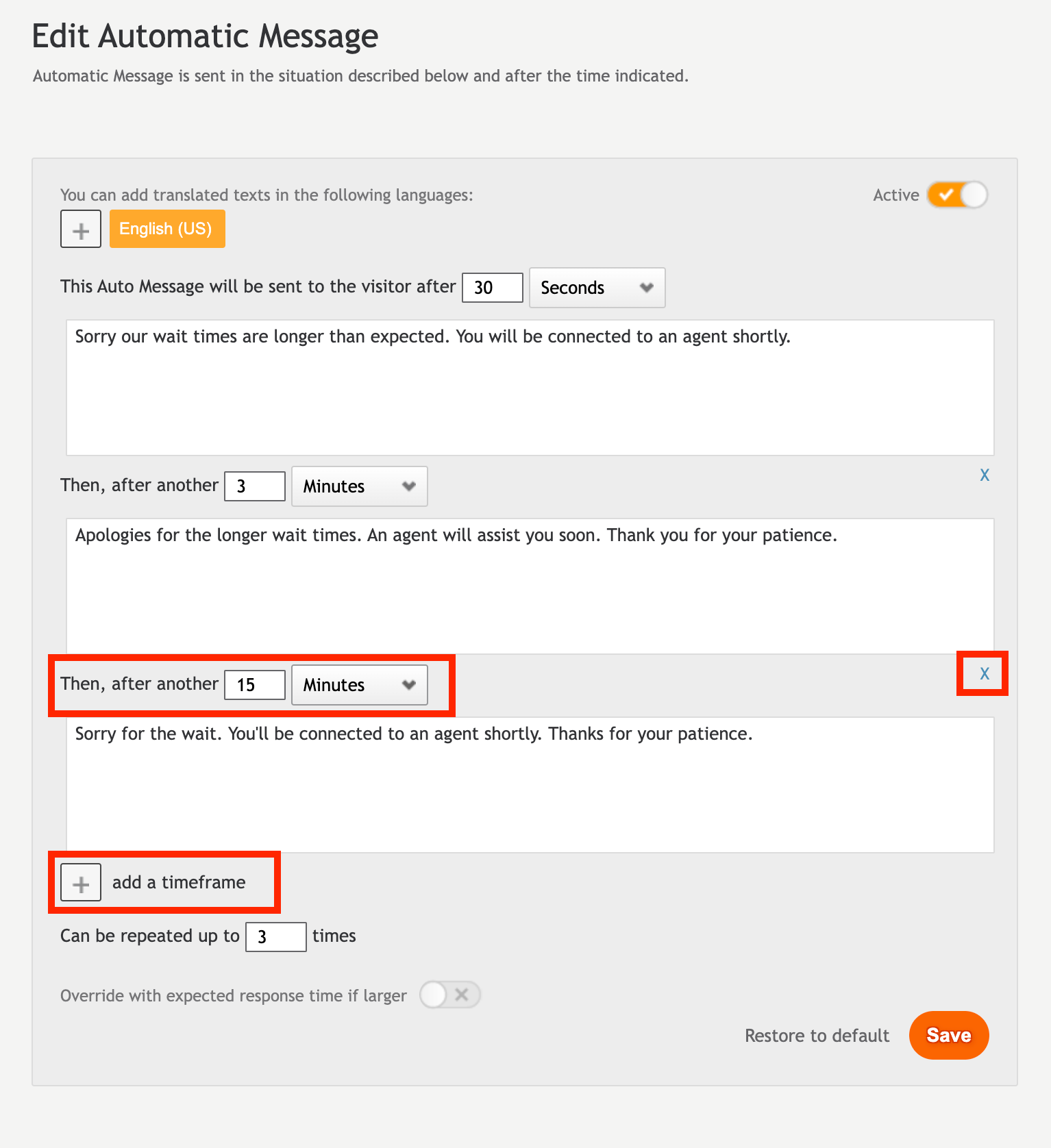 Easy Configuration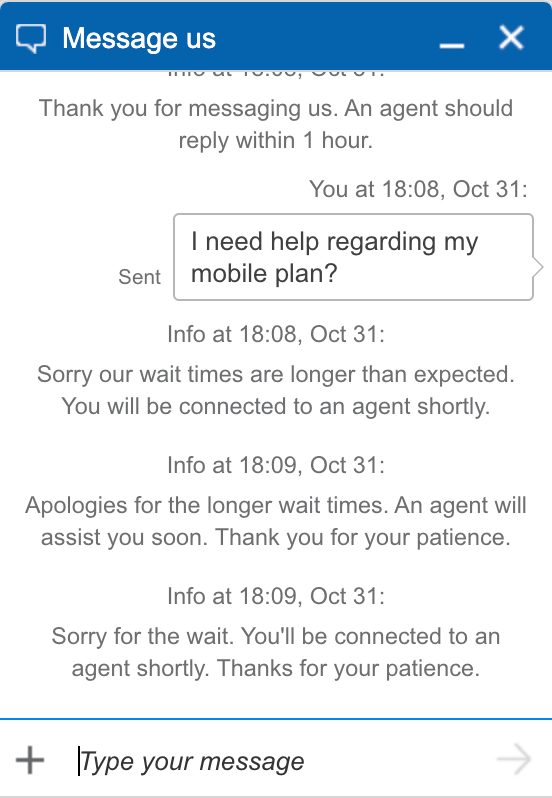 Customer View
With this enhancement, please be aware that the old message repetition and delimiter-separated auto message features will no longer be functional. We have streamlined the process to provide a more robust and user-friendly experience. Please configure your auto messages in Campaign Management > Auto Messages.
This enhancement ensures that your customers receive timely, relevant, and personalized messages, enhancing their overall experience. It empowers you to manage customer interactions more effectively, maintain customer engagement, and resolve issues with ease.
More details
Click here to find out more about Smart Control for Auto Messages.
Enhancements
Send stickers to consumers on WhatsApp
Sending stickers to consumers is now supported on WhatsApp. Use the new Sticker interaction that's now available in Conversation Builder.
Features
Integrate with any KMS/CMS via LivePerson's Integration Hub
As a company or organization with a strong, online presence, it's likely that you've invested heavily in a tool to manage your knowledge and content. This knowledge management system (KMS) or content management system (CMS) helps keep your content organized for easy updates. You've set up the system, trained your users on it, and socialized processes to make sure the content is complete, accurate, and follows your branding rules. So, it's naturally important to you that KnowledgeAI connect with this system, so you can leverage your vast knowledge and content in your Conversational AI solution.
Enter KnowledgeAI's newest feature: You can now integrate any CMS/KMS using LivePerson's Integration Hub (iHub) application. iHub embeds Workato, a leading third-party enterprise automation platform, inside Conversational Cloud. What's so special about Workato? Power. Flexibility. And a no-code/low-code approach to integration and automation.
In iHub, you can now create a Workato recipe to sync the content in your external KMS/CMS into KnowledgeAI. Sync the content on demand, or do so using a trigger, such as an automated schedule.
Features
Welcome / Invitation Messages Shown to Agent
Custom welcome messages configured in the engagement window studio, as well as dynamic welcome messages, shown to the user before a conversation starts will now be displayed to agents within the Agent transcript. With this change agents are able to continue a conversation in context, without frustrating a consumer by having them repeat the reason they are messaging. Printing the first message also allows for AI automations, like intents and dynamic routing, to quickly determine the next best action that the conversation should take.
Support for Content Security Policy (CSP)
Web messaging now supports Content Security Policy (CSP). CSP is an added layer of security that can restrict/specify the sources and types of content (scripts/styles/iframes) that can be loaded on a web page, which helps limit certain types of attacks, including Cross-Site Scripting (XSS).
Adding this support means that the Web Engagement window can load correctly even after your site has implemented CSP. For more information on how to configure this feature please review our documentation and  reach out to your LivePerson account team if you have any further questions.
Enhancements
Expanded Indian Language Support
Web Messaging has been updated to support the following languages: Punjabi, Tamil, Telugu, Malayalam, Kannada, Bengali, Gujarati, Marathi and Bhojpuri. Selecting one of these languages at the engagement level will update the Engagement Window, Automatic Messages and Predefined Content to the language of your choice.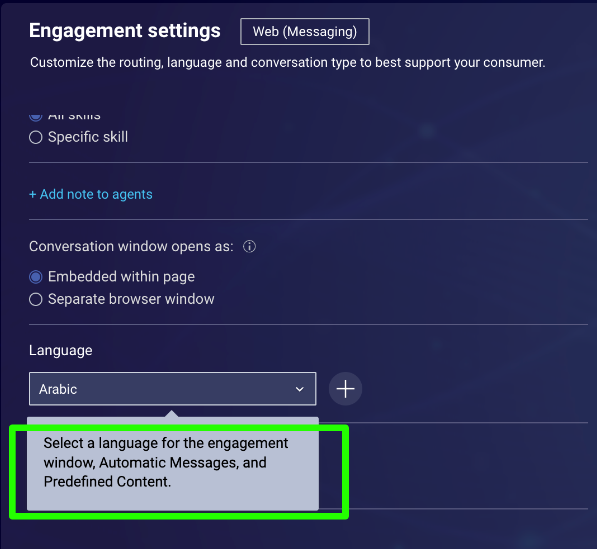 Language Selection at the Engagement Level within the Campaign Builder
Features
Customizable Welcome Messages
With the latest version of our Mobile SDK (iOS 6.15 and Android 5.18) you can now customize your welcome message within the Mobile SDK more frequently and easily, without the need for updating the application. A new welcome message parameter within the SDK can be dynamically updated, opening up the potential for any number of customizations. Examples include:
Create different welcome messages that display depending on the time.
Bundle the application with multiple welcome messages and use one according to status.
Build an endpoint to retrieve a custom welcome message based on the specific consumer.
Provide different welcome messages depending on the consumer's latest viewed page or latest action.
For more information please review the developer documentation for Welcome Messages within iOS and Android.
Enhancements
Push Notifications Delivered Regardless of Last Device or Channel
Push notifications can now be delivered to registered applications for authenticated users who are switching between channels and devices, to ensure that customers receive agent messages. This allows us to support multiple new scenarios:
A user starts a conversation on a mobile app, then switches over to the web. After closing their web browser the agent sends another message to the user. A push notification will now be delivered to the customer's device so they can receive the message and continue their conversation.
A user is logged into the same messaging app on multiple devices. They start a conversation on their first device, but then the app goes into the background on both devices. The user will now receive push notifications on both devices if they receive an agent message so they can continue the conversation on either device.