Overview
The Agent Workspace simplifies agent operations to dramatically increase agent focus and efficiency
The Agent Workspace is designed to handle multiple channels of conversation at scale asynchronously, taking into account all of the features that were developed especially for messaging.
The workspace design is designed for omnichannel customer engagement operations, with the conversation list and incoming conversations prominently displayed to enable agents to swiftly manage many conversations.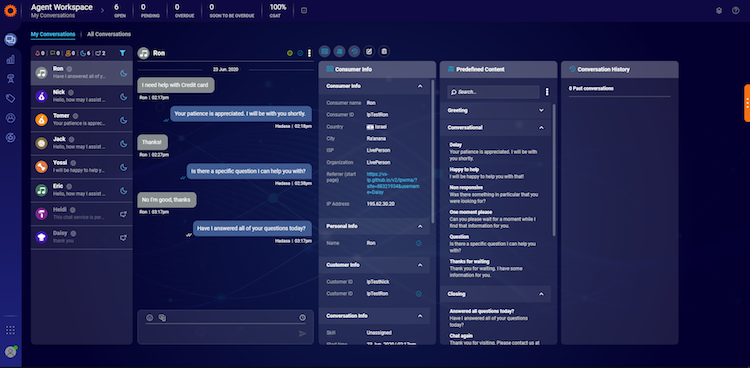 Guided decision-making saves agents time
The dynamic conversation list with built-in automation sorts conversations by the response time, telling agents which conversation to handle next and removing the need for decision making that can be time-consuming and prone to human error.
Reduced noise increasing agent focus
With asynchronous messaging, the conversation list for agents can sometimes become long while agents are awaiting consumer replies. By filtering out the 'idle' conversations, or those that do not require immediate attention, agents can easily tackle a shorter, more focused conversation list.
Fast shift wrap-up with a quick view of closed conversations
Quick and simple filters display closed conversations - enabling agents to ensure all documentation and summaries are in place and accurate when wrapping up their shift.
Full history of the conversation within the same window
Agents can scroll up to view the entire conversation history directly within the transcript, rather than needing to navigate to a dedicated history widget.
Notes on previous conversations with the same consumer
Multiple notes by multiple agents can be added to the conversation summary widget so the assigned agent can view a log of comments, quickly get up to speed, and provide the most personalized conversation possible.
Enhanced customization of Agent Workspace
Each user is now able to select whether they want to work in the dark or light mode for their workspace.
Missing Something?
Check out our Developer Center for more in-depth documentation. Please share your documentation feedback with us using the feedback button. We'd be happy to hear from you.