What's New in June 2023
Check out all the updates launched in Q2 2023 to LivePerson's Conversational Cloud. 
Voice bots
We are excited to share with you the launch of Voice Bots in the Conversational Cloud. There are many benefits of using voice bots to engage with your consumers effortlessly and naturally, including convenience, efficiency & personalization. In addition, they tie into third-party systems easily, including your existing telephony and CCaaS systems to effortlessly allow your brand to power a 24/7 contact center with one unified platform.Voice Bots also allow people with disabilities to interact with technology in a more natural and accessible way. All these advantages make them a powerful tool to enhance your brand's customer experience.
Using Conversation Builder, our Voice Bots offer key features such as creating Voice Bots in various accents, using text-to-speech or pre-recorded audio, supporting touch-tone responses, and enriching answers with Generative AI. These features make it easy to create a human-like experience that meets your customers' needs.
Using VoiceBots can also reduce your operating costs and drive efficiency, ultimately leading to higher customer satisfaction and loyalty. By using the Management Console, you can easily enable Voice Bots and start reaping the benefits of this powerful tool.
In addition, we have added more flexible targeting options when sending automated surveys, including the ability to specify the minimum number of messages that must be sent by the bot/human agent before the survey is triggered.
Check out our  3-minute video for bot builders.
 For more information on Voice bots, check out the Release Notes in the Knowledge Center.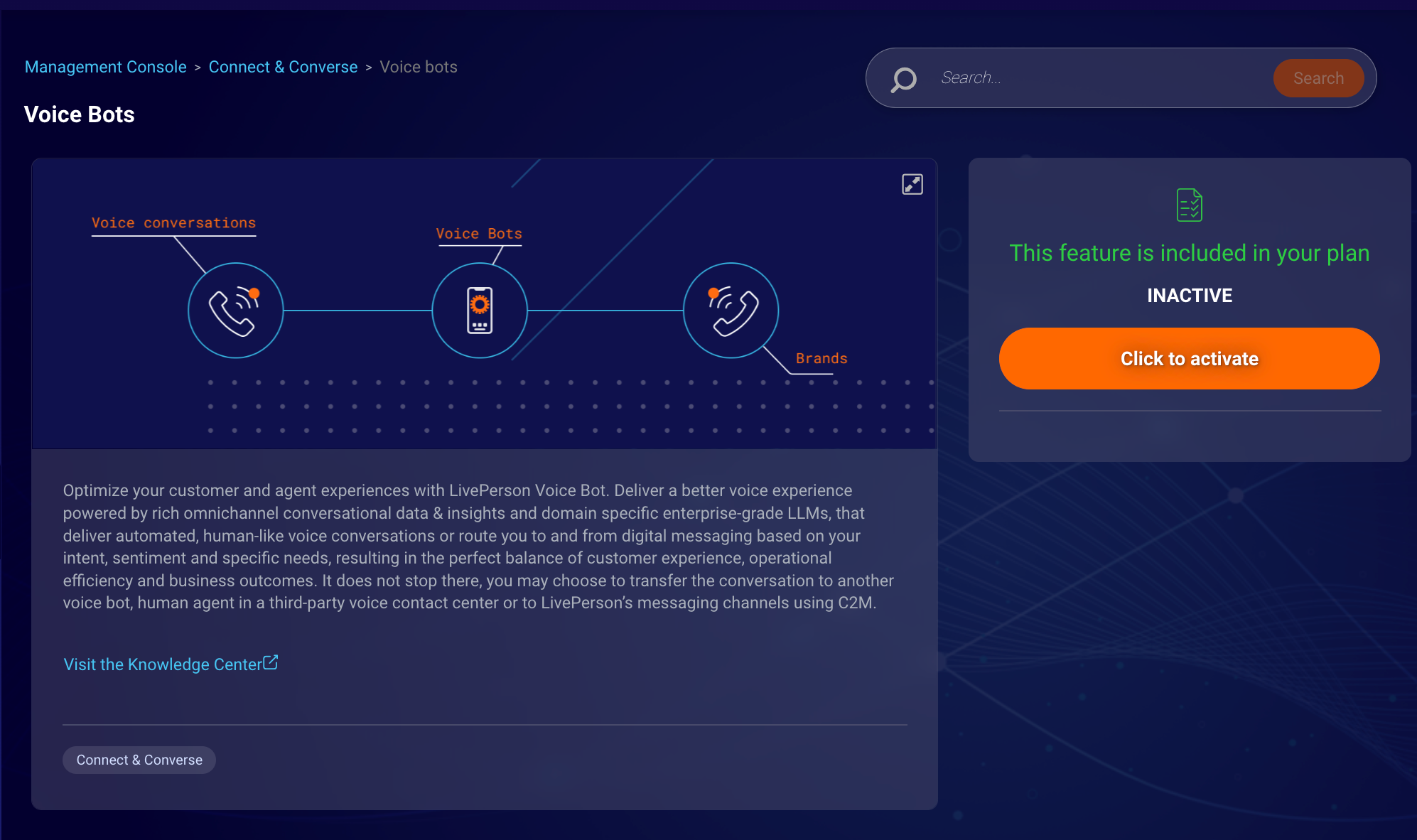 Faster, quicker, more natural answers for both agents AND bots
At LivePerson, we're thrilled that advancements in Natural Language Processing (NLP) and Large Language Models (LLMs) have opened up a world of possibilities for Conversational AI solutions. The impact is truly transformative.
LivePerson's Knowledge AI now offers an answer enrichment service powered by one of OpenAI's best and latest LLMs. 
With the enriched answer service, you can now take full advantage of Knowledge AI to leverage your brand's existing content to automatically deliver more accurate, relevant, and natural responses to your consumers. This feature is available if you are currently using Knowledge AI to recommend answers to your agents or to automate responses via Conversation Builder bots.
So how does it work? Simply put, when a consumer poses a query, Knowledge AI utilizes its advanced search techniques and prompt settings to retrieve the most pertinent answers from your knowledge base. These answers are then passed, along with context from the conversation, to the LLM service for enrichment. The result is a response that's not only contextually relevant but also precise, natural and enriched with Generative AI.
Note: Currently, this feature is supported only for English-language knowledge bases.
We offer 30 days of Preview access for free. Your brand's authorized representative can start the Preview in the Management Console within Conversational Cloud. Contact your LivePerson representative to discuss turning on these LLM-powered features. 
Tune your NLU faster through Generative AI training
At LivePerson, we know that creating a strong taxonomy and optimizing your NLU model can be tough. Finding the right training phrases for each intent can be a challenge, and it can be time-consuming to make sure your model is performing at its best.
That's why we're thrilled to introduce Generative Intent Training, powered by one of OpenAI's latest and greatest Large Language Models. With this tool, you can provide a topic and guidance, and the generator will automatically produce up to 30 training phrases for your intent at a time.
No more tedious hours spent mining conversations for suitable training phrases. With Generative AI, it's easier than ever to accelerate your development and optimize your NLU model. 
For more information, check out our release notes.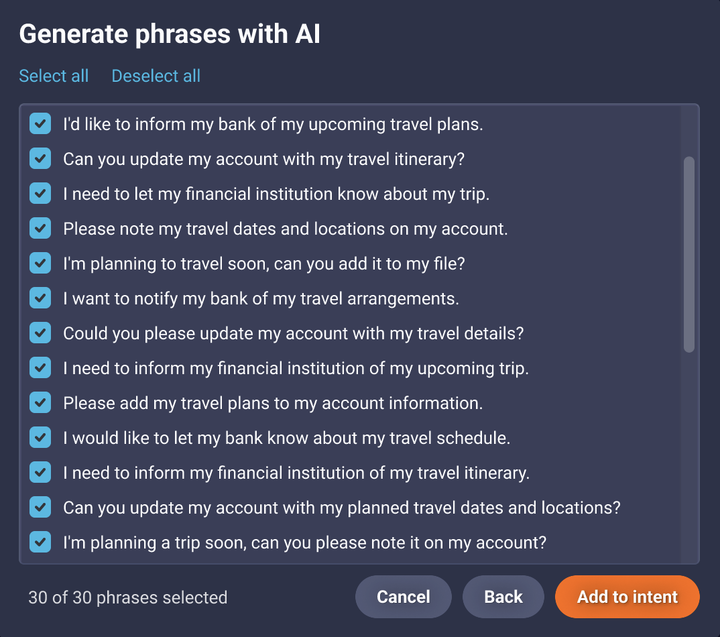 Gen AI training phrases
New Natural Language Understanding (NLU) external APIs
LivePerson has launched new Natural Language Understanding (NLU) external APIs, now available for public use. These APIs are designed to help you harness the power of LivePerson domains programmatically in your bots or external systems.
With these new APIs, you can check multiple domains inside your bots and use the results to provide accurate answers, set variables, or control the flow of the conversation. If you're working outside of bots, you can use these APIs to classify text or test your NLU performance.
Check out our new NLU Prediction (Single Domain) API, NLU Prediction (All Tracked Domains) API, NER Prediction API, and Small Talk Prediction API. We're excited to bring these new capabilities to our customers, and we can't wait to see how you use them to enhance your conversational experiences.
For more information on API's click here.
Conversation Summary in Agent Workspace
We've launched an exciting new feature in our Agent Workspace: Conversation Summary. This AI-generated summary provides agents with a quick overview of ongoing and historical conversations, including the customer's questions, concerns, and attempted resolutions. The summary is accessible through the Summary Widget for ongoing conversations and can be found above the transcript for historical conversations.
Conversation Summary improves agent efficiency and effectiveness, leading to higher customer satisfaction and better business outcomes. It's also customizable, allowing you to set the minimum number of messages required to generate a summary.
Ready to try it out? Contact your LivePerson representative to turn on this feature and get 30 days of free Preview access.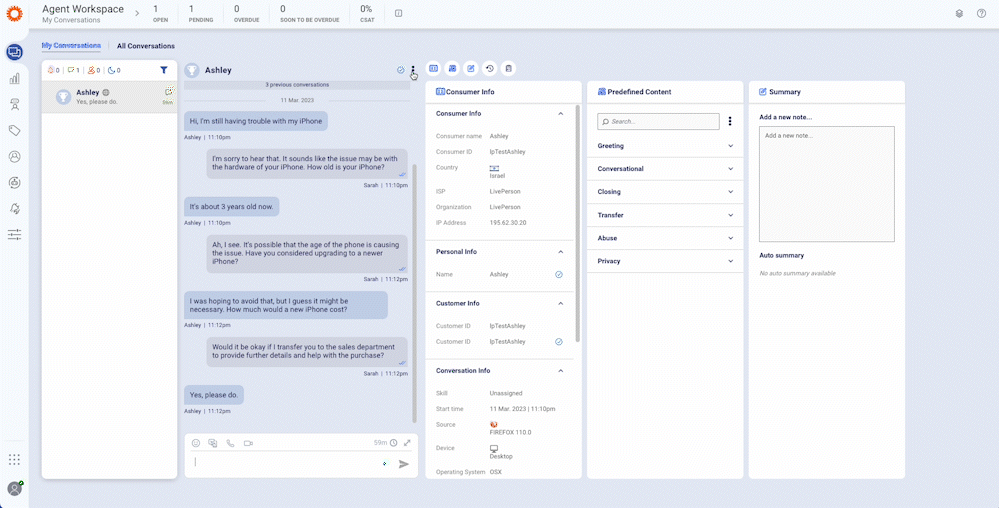 Social Messaging 
We are excited to announce the addition of several new features that will enhance your conversations and provide an even better experience for LivePerson customers who use social messaging channels!
Now, you can access all the Social specific features in historical conversations as well, including previewing parent messages, metadata on messages, options to view a post in the native channel, and the ability to reply to a specific message. These features will make navigating and engaging in conversations easier, even if they happened in the past.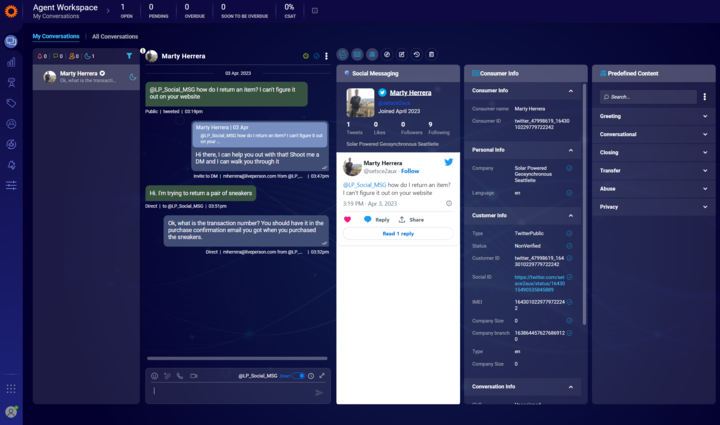 Twitter agent interface
For more information on getting started with Social Messaging, click here
The new Generative AI Reporting Dashboard is coming soon!
We're excited to announce the release of our new Generative AI Analytics dashboard, designed to help you leverage Generative AI and Conversational AI together, leading to better business outcomes.
With the dashboard, you can gain valuable insights to answer crucial questions such as:
How is Generative AI performing in my solution?
How much is Generative AI improving my agents and bots?
The Generative AI dashboard collects conversational data from all channels, including voice and messaging, and delivers actionable insights to drive business growth.
The new dashboard, along with the power of Generative AI, is a game-changer, providing you with the necessary tools to improve customer engagement and drive business growth. With this solution, you can now easily track the performance of your Generative AI solution and make data-informed decisions to optimize its effectiveness.
For more information, click here