Week of February 22nd
New updates: Data Transporter, Intent Manager, Conversation Assist
Exact delivery dates may vary, and brands may therefore not have immediate access to all features on the date of publication. Please contact your LivePerson account team for the exact dates on which you will have access to the features.
The timing and scope of these features or functionalities remain at the sole discretion of LivePerson and are subject to change.
Features
LivePerson Encryption Feature
Customers now have the option to use LivePerson encryption (default method) rather than having to provide custom encryption keys which require manual decryption once the data is received. When LivePerson encryption is selected for a given task, the data will be encrypted by the LivePerson system and automatically decrypted when the authenticated user requests to download the completed task.
Previously, encryption was set at the account level - now encryption is configured at the task level. Users can select the encryption method from create/edit task page - there will be three encryption methods available:
LivePerson encryption - The data will be encrypted by default by the LivePerson system.
No encryption (if allowed by the report definition) - The data will not be encrypted (this option is only available for certain reports)
Custom encryption -The data will be encrypted with customer provided encryption keys - the customer must decrypt the data with their private key. If no custom encryption key is configured, the customer must set this via the Encryption page prior to selecting the custom encryption option
Enablement
Enabled by default for all Data Transporter users
Limitations
When using LivePerson Encryption (default), files cannot be sent to any destination other than LivePerson Cloud. In other words, the user cannot send tasks to SFTP, Amazon, Email or Google Cloud unless Custom Encryption is selected

To retrieve the LP encrypted data, the customer can return to the Data Transporter application and download the report from the report history table on the front page.

If any task uses custom encryption, the custom encryption key in use can not be disabled or deleted - tasks using that key must first be updated to use an alternative key or encryption method
To download a task from the report page that uses custom encryption, the custom encryption private key must be set during that users local browsing session from the encryption page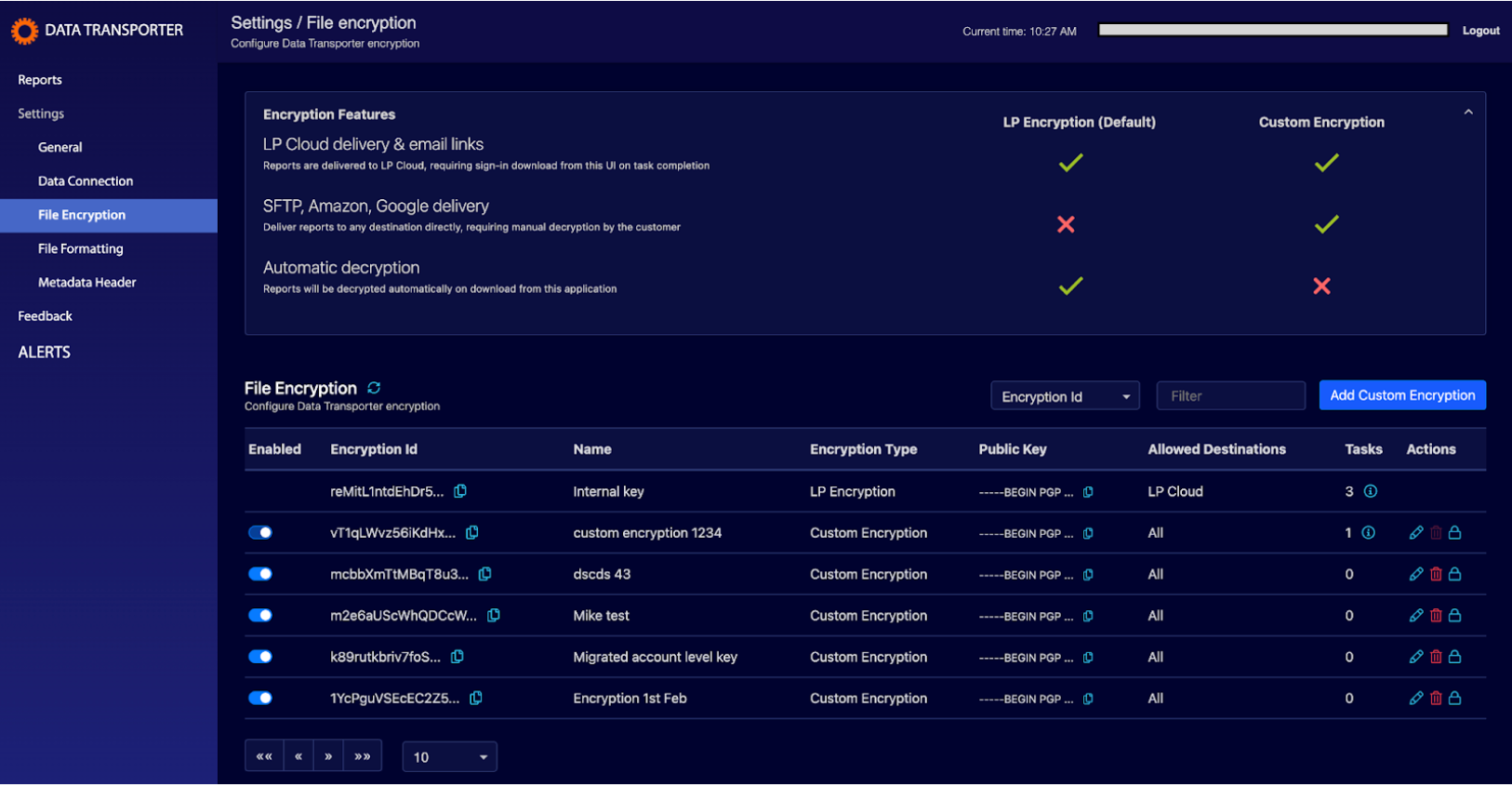 Figure 1: New File Encryption Page
Features
LivePerson NLU engine now supports Dutch and Tagalog
There's great news: You can now increase your reach even farther, as our LivePerson NLU now supports Dutch and Tagalog.
Features
Inline and on-demand recommendations - More flexible usage options
By brand request, you can now turn on inline recommendations and on-demand recommendations independently. This means you can use one but not the other, or use both, based on your needs.