Accessing the toolkit
Instructions on how to access the MCS toolkit
How to access the MCS toolkit
There are three methods to login to the MCS toolkit:
Regular login (via Conversational Cloud username/password)
Simultaneous Login (via LivePerson SSO) (*available by request)
Agent SSO login (via Agent SSO)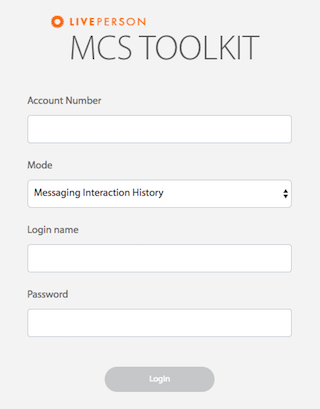 Regular login method
1. Any valid Conversational Cloud user may login at: https://mcs.liveperson.net/login
2. Before login, select the dashboard type: messaging or chat
3. Login via regular method will terminate any existing Conversational Cloud session
Simultaneous login method
1. To enable simultaneous login, please contact your account manager
2. Once enabled, access the simultaneous login at: https://mcs.liveperson.net/sso
3. Enter your account number and select the dashboard mode
4. You will be redirected to a Conversational Cloud login page and can continue to login as normal
5. You may also bypass step 3 by adding your account number and mode to the URL: https://mcs.liveperson.net/sso?accountId=123&mode=messaging (replacing "123" with your account number without quotes, and mode with either "messaging" or "chat" without quotes)
Agent SSO method:
In order to access the MCS toolkit via Agent SSO:
Refer to SSO Guide
Ensure that the lpservice URL parameter referred to in the "configuration on the customer's environment" section of the SSO guide is equal to mcs (e.g. lpservice=mcs)
Once you are logged in you will be able to:
Evaluate your overall contact center performance as indicated by consumer experience.
Benchmark agents and agent groups against each other, using MCS distribution to compare performance, recognizing weaknesses and strengths in the performance of agents or agent groups.
Leverage data to inform performance reviews and coaching sessions with individual agents or groups, and use examples of the highest and lowest ranked conversations for valuable training cases.
Drill down to a specific conversation under investigation and jump directly to the point in the conversation where the MCS was negatively affected.
Perform custom offline analysis by exporting messaging interaction or Engagement History API data direct to a CSV file via the the MCS toolkit data tables.
Missing Something?
Check out our Developer Center for more in-depth documentation. Please share your documentation feedback with us using the feedback button. We'd be happy to hear from you.