What's New in September 2023
Check out all the updates launched recently to LivePerson's Conversational Cloud. 
Report Center
LivePerson launched the Report Center which provides powerful tools and insights to make data-driven decisions and uncovers valuable trends.
The Report center contains data from the Generative AI dashboard. It has a comprehensive set of interactive charts and graphs to visualize your data in a more intuitive and meaningful way. You can create personalized Report Center dashboards tailored to your specific needs, allowing you to monitor key generative AI metrics and track performance indicators in real-time. Report Center aims to consolidate many of the analytics and reporting use cases from different products into a single framework for reporting within the Conversational Cloud. 
The Report Center has better functionality and improved data filtering capabilities to generate more focused and insightful reports.
To enable Report Center for your account, please contact your account team. Click here for more information on the Report Center.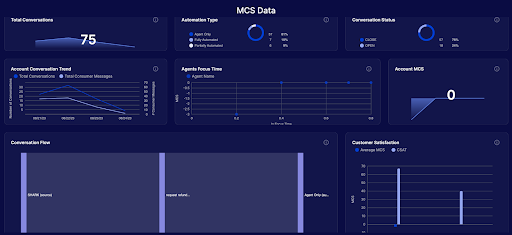 Report Center Mock up
Conversation Assist Enhancements
Last month we enhanced the On-Demand Recommendations widget. Rich answers, which encompass multimedia such as images and videos can be edited by your agents and agents have the flexibility to modify the text within the recommended rich answers. This month we have a whole lot more!
Offer recommendations to specific agent groups
Now, you have the flexibility to provide answer and bot recommendations exclusively to designated agent groups, allowing for more targeted support, such as guiding new agents during their onboarding process.
This customization can be easily managed within the Settings section, where you'll discover a new option enabling you to limit recommendations to one or more predefined agent groups. Simply select the groups that align with your specific needs.
It's important to note that this setting applies to both inline recommendations and those presented through the On-Demand Recommendations widget. If no agent groups are selected, recommendations will be available to all agents. However, recommendations remain skill-based. The chosen agent groups serve as the initial filter to determine eligibility for receiving recommendations, with skills acting as the secondary filter. For more information, click here.
Knowledge base usage reports are enhanced to support answer tuning
Our commitment to providing valuable insights continues with enhancements to the "KB Usage" reports, available on a daily, weekly, and monthly basis. These updates introduce invaluable information that can greatly assist in optimizing the performance of your knowledge bases.
Explore the newly added columns, which include:
Recommended answer
Answer sent to consumer
Answer modified
This data empowers you to gain insights into which answers your agents are adjusting and the nature of those modifications. Armed with this information, you can make informed decisions on fine-tuning the responses within your knowledge bases for improved performance and customer interactions. 
Conversation Builder Transferring calls to Messaging
LivePerson have addressed a common challenge – streamlining the process of transferring automated voice conversations to messaging channels. No more dealing with multiple interactions; our newly introduced 'Transfer to Messaging' interaction handles all necessary Connect-to-Messaging (C2M) API calls in a single powerful step. This versatile tool proves useful for various scenarios where transitioning from voice to messaging is beneficial, such as catering to consumer preferences, easing agent workload, or prioritizing messaging communication. With this enhancement, your setup becomes more straightforward and efficient, making seamless call-to-messaging transfers a reality.
This tool proves useful for various scenarios where transitioning from voice to messaging is beneficial, such as catering to consumer preferences, easing agent workload, or prioritizing messaging communication. With this enhancement, setup becomes more straightforward and efficient, making seamless call-to-messaging transfers a reality. For more information click here.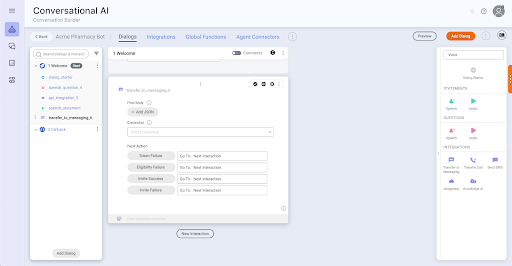 Generative AI: Our solution shifts from monolingual to multilingual
The world of Generative AI is changing quickly and we continue to innovate on our solution. We're thrilled to announce that our latest feature enhancements center on language support. You can now:
Get answers enriched via Generative AI in 50+ languages, not just English
Support cross-lingual queries and use mixed-language knowledge bases
Answers enriched via Generative AI in 50+ languages
LLM-enriched answers are smarter, warmer, and better. And now you can get them in 50+ languages. French. Italian. Japanese. The list goes on.
Use KnowledgeAI's LLM-based "answer enrichment service" to safely and productively take advantage of the unparalleled capabilities of Generative AI within our trusted Conversational AI platform. You can offer LLM-enriched answer recommendations to your agents within Conversation Assist
Get started today and learn about our trustworthy Generative AI solution. Click here for more information 
Trustworthy Generative AI: Automatic hallucination masking empowers agents to send the right info 
In this latest release, we're excited to introduce a feature aimed at addressing occasional hallucinations in LLM-generated responses, a crucial step in ensuring the trustworthiness of our Generative AI solutions. We're calling it "hallucination masking," and it's now a part of Conversation Assist.
We've recently improved our LLM Gateway to identify and mark, rather than remove, hallucinated elements such as URLs, phone numbers, and email addresses. This enhancement enables client applications like Conversation Assist to make the most of this functionality.
Now, when Conversation Assist receives a recommended answer containing a marked hallucination (be it a URL, phone number, or email address), it automatically conceals the hallucinated content and substitutes it with a placeholder representing the correct information. These placeholders are prominently highlighted for agents, allowing them to promptly identify areas where action is needed and fill in the accurate details. For more information, click here.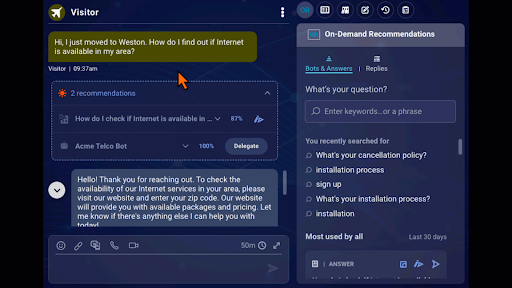 Gen AI Hallucination
New support for Manual Rollover and Rollback
LivePerson have introduced new support for Manual Rollover and Rollback
Key Capabilities include: 
Cross-Account Conversation Transfer:  Agents and bots can effortlessly transfer messaging conversations between brand accounts across all supported channels (web, abc, gbm, sms, etc.). Maintain a consistent customer experience while utilizing the full scope of LivePerson's messaging channels. 
Smart Transfer Timing: Transfers can only occur to destination skills during their working hours. A fallback option is available if the destination agents become offline or unavailable, ensuring uninterrupted customer support. 
Agent Notes and Warm Transfers: Agents and bots can include agent notes and warm transfer messages when passing conversations to other agents or skills. This ensures smooth knowledge transfer and context preservation. 
Two-Way Transfer Capability: Agents and bots can seamlessly transfer conversations back to the originating agent or skill from the sending account. This bi-directional transfer flexibility facilitates efficient resolution and support.
For more information, click here.
Consumer Web Messaging - Structured Content Enhancements
We've introduced significant enhancements to Consumer Web Messaging's structured content capabilities. These improvements empower you to create more engaging and interactive experiences for your customers directly within the messaging window. You can now take advantage of a variety of new styles and customization options.
The Accordion-Style Structured Content with Multi-select, enables users to choose from a selection of up to 20 options, each expandable to reveal additional information. Moreover, Single/Multi-Select Card Carousels have been enhanced to offer customers the flexibility to make single or multiple selections. These carousels come with customizable text formatting and color options, and they can feature up to four buttons for customer responses.
Another feature is the support for "Add to Cart" functionality, allowing users to add items to their cart directly within the messaging window. This feature initiates a function call on your webpage, facilitating seamless cart updates. Additionally, you can now display scrollable text fields within structured content, accommodating large blocks of text, emojis, and HTML formatting, along with customizable buttons for customer interaction.
For the Web Messaging Window, new customization options include hover-over effects that change text and background colors for quick replies and multiple-choice options when customers hover over them. You can also create a more branded experience with a large header and logo support. 
Furthermore, in collaboration with Next Best Conversation (NBC), support for dynamic variables from SDEs (Shared Data Extensions) is now available, allowing for personalized welcome and greeting messages. Lastly, a convenient configuration has been introduced to automatically close the window for users when an agent concludes a conversation. These enhancements collectively enrich the user experience and provide greater flexibility in tailoring interactions to meet your customers' needs. For more information, click here.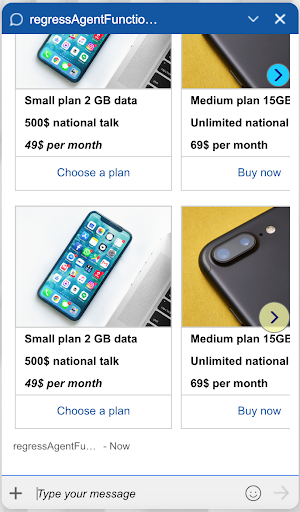 Updates to Proactive Messaging
Proactive messaging serves as a powerful means to deliver messages directly to your app users through push notifications. In this latest update, the proactive message's content will now be visible in the conversation transcript, accessible to both the user and the agent. This not only enhances agent context but also enables the application of AI automation, such as intents and dynamic routing, to swiftly identify the most appropriate next steps for the ongoing conversation.
This feature is accessible in SDK versions 5.17.0 (Android) / 6.14.0 (iOS) and beyond, ensuring seamless integration for your messaging needs.
Enhancing the Agent Experience in Proactive Messaging
The Proactive Messaging Service is evolving with the introduction of the "Agent Experience for Proactive Messaging." Agents now have the capability to initiate conversations with consumers, breaking free from the limitation of waiting for consumers to start the dialogue.
Key Features and Benefits:
Proactive Engagement (Agent Experience): Agents gain the ability to proactively initiate conversations with individual consumers or reach out to multiple consumers simultaneously.
Recipient Entry Options: Agents can choose to manually input recipient details or conveniently upload them in bulk using a .csv file.
Conversation Routing: Admins and Agents have control over conversation routing. Once a conversation begins, it can be directed in several ways:
To the Agent who initiated the message.
To a specific skill defined by the Admin (to be released in Q3 '23).
To a specific skill specified by the Agent during campaign creation.
User-Friendly Interface: Our Agent-focused proactive messaging service is designed with an intuitive and straightforward interface.
Controlled Access and SSO: Admins have the authority to determine which Agents possess the privilege to send proactive messages.
Flexible Routing Configuration: Both Admins and Agents can decide the conversation's destination, whether it remains with the initiating Agent or is routed based on a specific skill.
For more information, click here.
Social Messaging
Facebook & Instagram account configurations have a new home
The account configurations for Facebook & Instagram that were previously available on their respective info page in the Management Console are now accessible directly on their respective Configuration pages. The settings work exactly the same way as before and can be toggled on and off. 
Generative Insights (beta)
The future of conversational analysis is Generative Insights – a revolutionary offering that empowers brands to seamlessly navigate through vast datasets and deliver tailored metrics and parameters, giving a deeper understanding of customer interactions.
Swift Analysis, Effortless Understanding: You gain access to a profound analysis of customer conversational data, effortlessly accessed through an intuitive, interactive conversational interface.
Engage in Targeted Dialogue: Pose specific questions rooted in customer conversational data and witness as valuable insights emerge. Delve into underlying data across ALL conversations, making every interaction an opportunity for informed decision-making.
Agent Workspace updates
Enhanced Flexibility for Automatic Messages
Administrators can now enjoy greater control over automatic messages by configuring them based on conversation Service Level Agreements (SLA). Here's how it works: If a skill's SLA is set at 10 minutes, and you have an "agent non-responsive" message configured to trigger after 3 minutes of agent inactivity, that message will now be sent precisely after 3 minutes.
This customization applies to both "agent non-responsive" and "conversation waiting in queue" auto-messages.
To make use of this feature, administrators can easily configure it by accessing the "Edit automatic message" option within the Campaign Manager for the specific auto message in question. 
Salesforce Widget 
The Salesforce Widget for Agent Workspace is a feature available in Conversational Cloud that provides various capabilities to empower agents with personalized customer context from Salesforce. Here are the key features and functionalities it offers:
Effective Case Management: This widget enhances case management by integrating with Salesforce, allowing agents to perform several actions related to cases and customer information:
Search Customer Information: Agents can easily search for customer information stored in Salesforce right from the Conversational Cloud interface.
View/Create/Update Cases: Agents can view existing cases, create new cases, and update case details directly within Conversational Cloud.
View/Create/Update Customer Details: Agents can access and modify customer details stored in Salesforce without leaving the Conversational Cloud interface.
Sync Chat Transcripts to Salesforce: Chat transcripts can be synchronized and linked to the corresponding case in Salesforce. This ensures that all chat interactions are captured and linked to relevant cases for future reference.
Update Comments: Agents have the ability to update comments related to cases within the Salesforce integration.
Custom Objects and Custom Fields: The Salesforce Widget supports custom objects and allows for the integration of up to 10 custom fields for both customer and case information. This customization enables businesses to tailor the integration to their specific needs.
To activate this feature, agents can follow the onboarding steps via the Integration Hub. Detailed configuration instructions and additional information can be found here.
Overall, the Salesforce Widget for Agent Workspace streamlines the workflow for customer support agents by providing easy access to Salesforce data and empowering them to efficiently manage cases and customer information without the need to switch between different systems.