What's New in August 2023
Check out all the updates launched recently to LivePerson's Conversational Cloud. 
Enhanced Navigation Bar
LivePerson have launched an enhanced navigation architecture! As part of our commitment to continuous improvement, we have simplified the navigation bar in the Conversational Cloud to make it easier for users to navigate our platform.
The new navigation bar is intent-driven and divided into four sections: Automate, Engage, Optimize, and Manage. TheA flat structure offers enhanced flexibility, allowing users to move between different product areas and modules quickly.
Check out the article about our New navigation.
Editable Rich Answers for the On-Demand Recommendations Widget in Conversation Assist
LivePerson are enhancing the On-Demand Recommendations widget! Rich answers, which encompass multimedia such as images, content links, audio, and video, can now be edited by your agents. Rich answers play a significant role in boosting consumer engagement and are therefore a crucial component of Conversational AI for many brands.
Agents will now have the flexibility to modify the text within the recommended rich answers offered in the On-Demand Recommendations Widget. This empowers agents to tailor and personalize responses according to brand specific requirements.
Please note: Editing the text of rich answer recommendations that are offered inline in the conversation isn't yet available, but it's coming soon. Also, if you're using answer recommendations that are enriched via Generative AI, be aware that answers that are both rich (i.e., have multimedia) and enriched (i.e., are generated via Generative AI) are supported but not recommended. This is because the generated answer might not align well substantively with the rich content associated with the highest scoring article, which is what is used.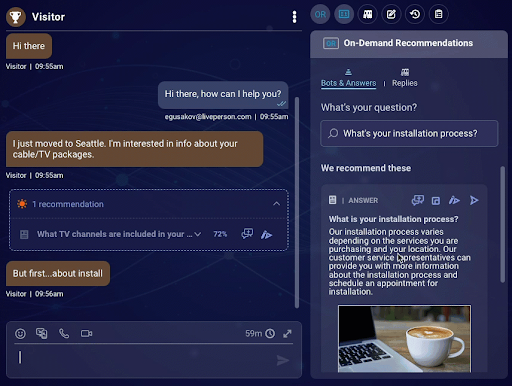 Editable Rich Answers for the On-Demand Recommendations Widget in Conversation Assist
Conversation Assist: Provide feedback on recommendations
Agents also have the ability to provide feedback on recommendations. They now have the option to give a "thumbs up" or "thumbs down" based on whether the recommendation aligns with the consumer's query. Currently, it is not possible to generate reports based on this feedback but stay tuned for upcoming developments as will be available in the near future!
LivePerson have made an upgrade to the Conversational Cloud Infrastructure with the introduction of URL post-processing in our LLM Gateway. We understand the importance of clickable URLs in messaging contexts, as they greatly enhance the overall user experience. However, responses generated by the Large Language Model (LLM) service, which are derived from Generative AI, are traditionally returned as plain text, lacking clickable functionality. With our new URL post-processing service in the LLM Gateway, the service automatically identifies all URLs within the response and wraps them in HTML tags, transforming them into active and clickable links. This ensures that users can access the relevant content with just a simple click.
This feature is enabled by default for KnowledgeAI across all accounts. However, if you wish to deactivate this feature, please reach out to your LivePerson account team. 
Conversational Cloud Infrastructure: Our LLM Gateway now offers hallucination detection
LivePerson have added a powerful Hallucination Detection service to the LLM Gateway. The LLM Gateway serves as an intermediary between our applications and the LLM service we utilize for Generative AI. Its core function is to transmit requests to the LLM service and receive corresponding responses. The gateway then performs post-processing tasks for optimal results. With our latest update, the LLM Gateway now includes an advanced Hallucination Detection service. This feature examines the responses generated by the LLM service, specifically focusing on URLs, phone numbers, and email addresses and identifies and flags any instances of hallucinations or false information.
The Hallucination Detection service acts as an additional layer of protection, ensuring that responses containing misleading or potentially harmful content are promptly identified. To learn more about this remarkable feature, we invite you to explore our Knowledge Center article.
LivePerson are providing you with more flexibility when using enriched answers via Generative AI. Previously, the setting to enable enriched answers was applied at the knowledge base level, affecting all interactions within a bot. However, we have shifted the Enriched answers via Generative AI setting to the interaction level, granting you greater control. Now, within a bot, you can choose to enable it for specific interactions while leaving it disabled for others. Alternatively, you have the option to activate it for every interaction. 
You can find this new interaction-level setting on the Advanced tab within the settings of the KnowledgeAI interaction. Typically, this interaction is used in Messaging bots.
This new feature within KnowledgeAI allows you to easily populate a knowledge base by uploading a PDF directly from your computer. Previously you would have to provide a publicly accessible URL from platforms like Google Drive or a website. With this latest update, you can utilize the content within a PDF stored locally on your computer to populate your knowledge base. Simply select the PDF file, and our system will handle the rest, making the process more streamlined and efficient.
mTLS Self Service UI and Auto Reminders
mTLS Self Service UI and Auto Reminders, designed to empower you with greater control and efficiency in managing your Mutual TLS certificates. This new capability removes the need for dependency on LP account teams, PaaS Ops, and mTLS development teams, allowing you to take charge of your certificate management process.
This feature is already used by many brands. If you would like to enable this feature, please reach out to your LivePerson Account team.
Automatic Key Rotation Data Encryption
LivePerson have implemented Automatic Key Rotation, a security feature that enhances the protection of your sensitive customer data. By adopting this modern and industry-standard approach, we aim to safeguard your information from potential unauthorized access.
Please note that currently this feature is only available for certain customers, due to certain restrictions imposed by our security infrastructure. However, we are continuously working towards expanding this capability. Please reach out to your account team to have this feature enabled.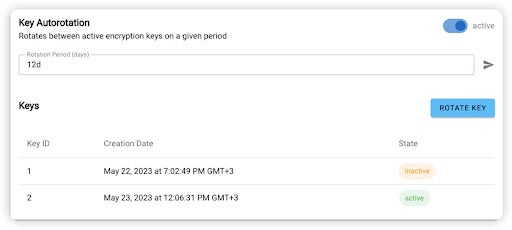 Automatic Key Rotation Data Encryption

Create secure forms via secure form studio (self service)
Brands have the ability to generate secure forms using Secure Form Studio and personalize them to enhance the customer experience. With this feature, brands can display secure forms to agents based on their skills and line of business (LOB).
Customers can benefit from this feature in several ways. Firstly, they no longer need to depend on LivePerson accounts teams to set up secure forms. Instead, they can access and manage secure forms through their conversational cloud account.
Additionally, brands can improve the brand experience by personalizing secure forms according to their own UX/UI preferences. This includes customizing elements such as logos, headers, footers, questions, and submit buttons to align with their brand identity.
Furthermore, as part of WCAG compliance and to ensure user consent, brands can incorporate a new question type in secure forms: a dropdown with options for "Yes" and "No". This helps enhance accessibility.
Check out our new Developers Center 
A new Developer page is here, giving customers, prospects, partners and LPers alike a new robust way to access key product information, technical how-tos and FAQs!
The page is now conversational, using LP's own GAI and LLM tech, giving our customers not only access  to an incredible trove of product content, but exposure to our tech and imagine how they can leverage it in their own instances.