Latest What's New
Check out the Conversation Cloud's Product highlights released in the past few months:
 Over the past few months we have had a number of updates to our products which help brands create conversational relationships with consumers at scale.
Updates to Conversational AI and Automations
Automate conversations with Conversational AI built on the world's largest data set of consumer conversations. 
 Sales Attribution on third-party channels
Sales Attribution allows brands to capture interactions after a consumer left the conversation and went on to open your brand's website to make a purchase or perform another action. This allows you to gain context on the consumer journey and gives better insight to user behavior. You can track conversions that happen through shared links to attribute cross-session sales.
Once the Sales Attribution feature is enabled on your account, the LivePerson messaging connector creates a unique Visitor in the LivePerson monitoring system for each new conversation. This Visitor entity is similar to the one that is used for tracking Website Visitors, and allows the messaging connector and other systems to report engagement attributes such as shopping cart updates, product views, or transactions.
Note: You can only create a single campaign and engagement per third-party channel 
For more information, click here.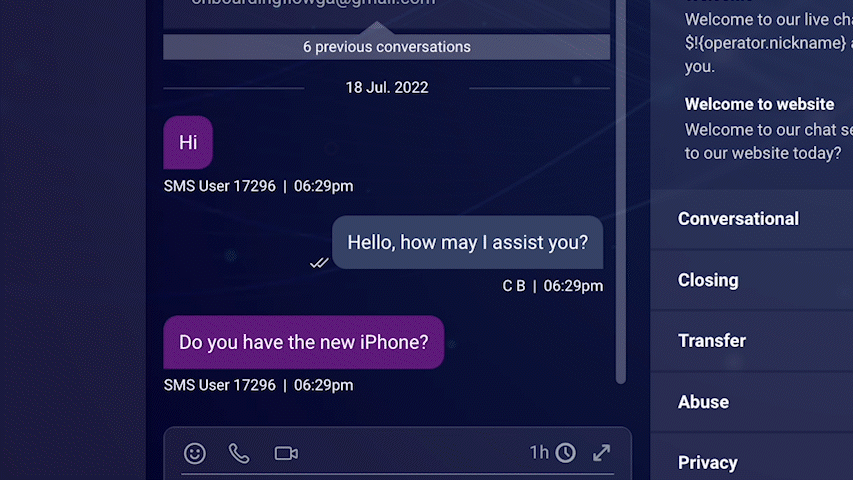 Sales Attribution for third party channels
AI Annotation Management
The AI Annotation Management platform revolutionizes the way agent annotations are accepted into intents.
Users (such as bot tuners) are now able to modify the selected domain or intent and accept the message to that intent directly from the annotations list with a click of a button. 
If users find a customer message redundant, they are able to archive it by marking the annotation as not required or too ambiguous, allowing users to easily manage annotations, quickly enrich intents and create better experiences for customers.
We've made it easier for agents to view transcripts to get context while annotating; review, edit, and close the annotation loop all in one place. There is also a new filter to focus agents on only meaningful annotations and users can export annotations to CSV file.
The Annotation Management is located in the optimize tab and is part of Intent Manager in Conversational AI.
Click here to see latest release notes for AI Annotation Management or here to get started with AI Annotations.
 Updates to Communication Channels
Make it easy for consumers to engage with your brand in the communication channels they use every day.
Consumer Message Channel Indicator
From within the Agents workspace, agents can now see the messaging channel the consumer is currently using with a new indicator next to each message. This helps agents adjust content and provide the right consumer experience and content for the channel in use.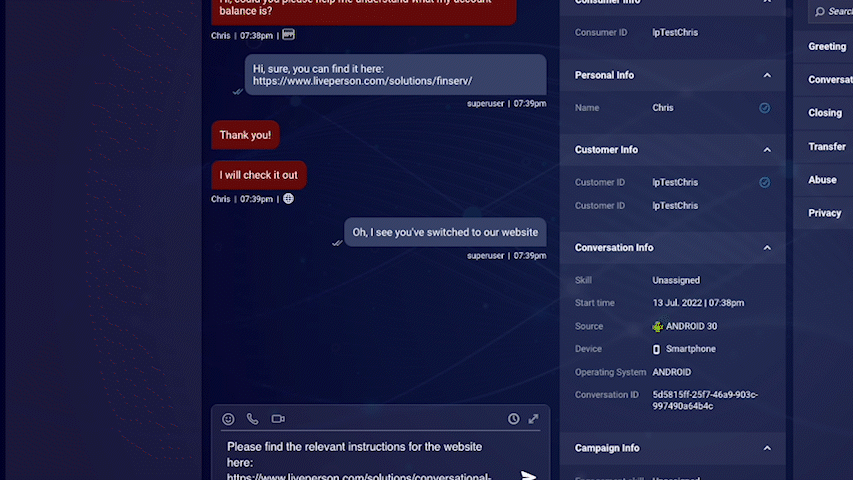 Channel Indicator
Support for Google RCS (C2M)  
LivePerson are proud to support Google RCS business messaging as a new connector to Conversational Cloud's Connect to Messaging (IVR deflection). This allows brands to message consumers through Android Messages.
For more information on the range of Messaging Connectors supported by LivePerson, click here.
New SDEs for Twitter and Facebook
Twitter SDEs now include information about the consumer's Twitter verification status, follower count, their language and Twitter bio. The language is based on the language of the Tweet. In addition,​​ when an agent replies to a public tweet, only the author will receive the reply rather than to all those mentioned in the original tweet.
SDEs for Facebook conversations also now contain the language, based on the profile of the user. These can be seen in the consumer info widget in the Agent Workspace.
Click here to learn more about Liveperson's Social Messaging product and capabilities.
Conversational Intelligence
Empower your enterprise to understand what your customers want, uncovering opportunities to increase sales, fix inefficient processes, and improve consumer experience.
Data Transporter
The Data Transporter is now available for all brands and allows you to understand how to staff your contact center to meet customer demand with 
The data transporter Delivers historical and real-time operational, agent and workforce management data.
It allows brands to use data (consumer engagement, conversation analysis, etc.) to make critical decisions around designing conversations, driving automation, analyzing consumer experience and agent engagement. 
For more information, click here.
Enhance the Agent and supervisor experience 
Team up agents and AI to transform the productivity of your contact center. 
Smart Replies
Smart Replies capability provides agents the option to receive a list of suggested replies back to consumers during a messaging conversation, based on the conversation content.
Agents using Smart Replies can now choose whether to add the suggested reply to the existing text in the agent's input or to replace the existing text entirely.
Click here to learn more about Rich Messaging. 
 Send private messages via bots
This enhancement allows bots to send private messages and pass conversation context or any consumer-provided information to agents for them to better support consumers after the conversations are transferred to agents.
To learn more about Private Messaging, click here.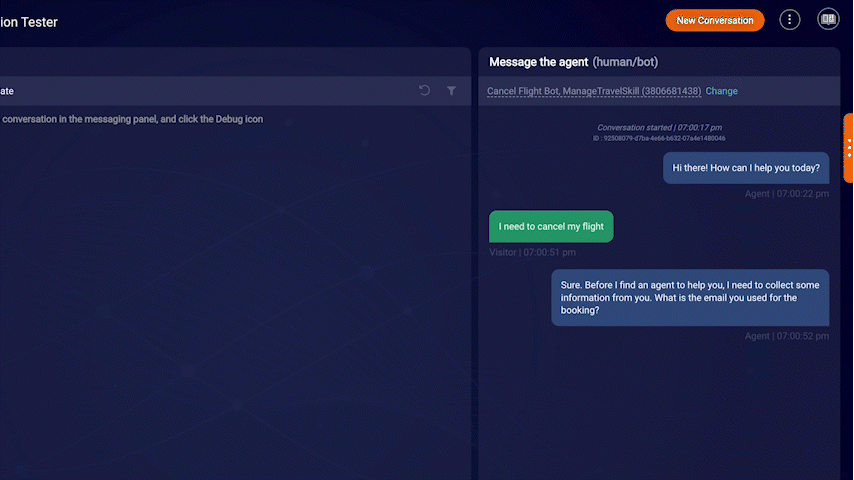 Private Messaging bots
Proactive Messaging updates
Proactive Messaging allows customers to transition from one-way SMS to rich two-way conversational experiences. LivePerson have introduced light theme support for Proactive Web Tool and Connect to Messaging Web tool. Simply launch the web tool and turn on the toggle on the top banner to enable the light theme. 
We also support a new reporting dashboard that helps brands track and action their Proactive Messaging campaigns more efficiently, seeing richer data and insights.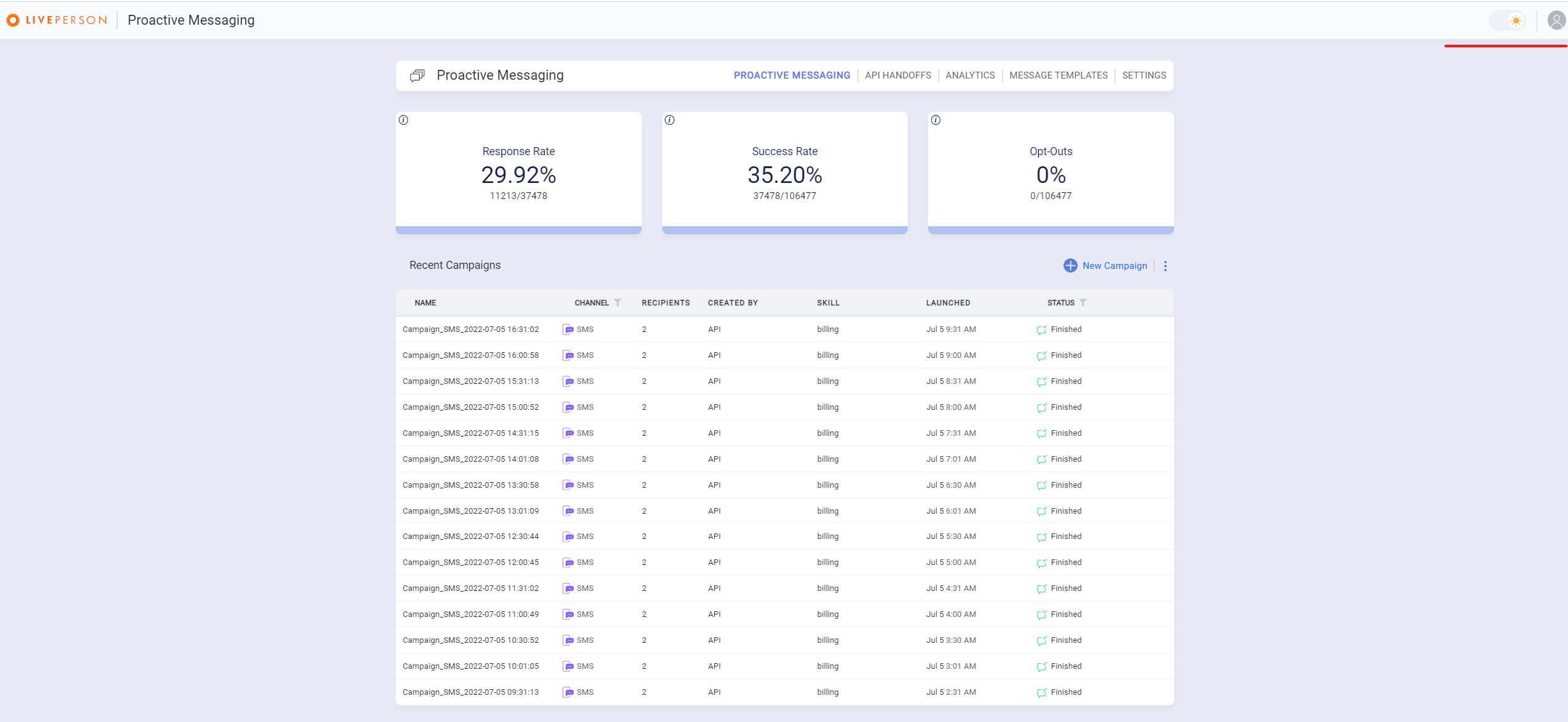 Want to learn more about Proactive Messaging and get started? Click here.
Did you know…
Fast Company names LivePerson the #1 Most Innovative AI Company in the World LivePerson has been named to Fast Company's prestigious annual list of the World's Most Innovative Companies. The list honors businesses making the biggest impact on their industries and culture as a whole, creating the future today with some of the most inspiring accomplishments of the 21st century.
For more information, click here.