Week of September 20th
New updates: Conversation Assist, Secure Forms Updates, Engagement Controller
Exact delivery dates may vary, and brands may therefore not have immediate access to all features on the date of publication. Please contact your LivePerson account team for the exact dates on which you will have access to the features.
The timing and scope of these features or functionalities remain at the sole discretion of LivePerson and are subject to change.
Features
Dynamically customisable Secure Form questions
Using the Secure Forms Studio, the brand administrator can now create Secure Forms with the desired questions.
Brands no longer need to reach out to the LivePerson account team to have the new Secure Forms created with the preferred questions, with the Secure Forms Studio, they can now do it themselves.
The following different answer types can be defined with each question:
Text
Numeric
Yes/No
Credit Card
CVV (off the record)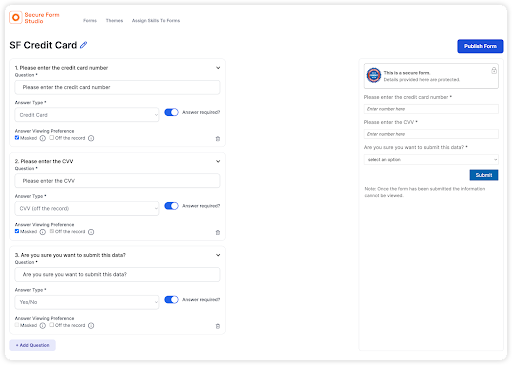 Secure Forms to inherit look and feel from page
With Secure Forms Studio, it's possible for brands to customize the secure forms as per their requirements/styling. Listed below are some features that can be customized:
Customize Header & Footer 

Brand can customize Logos or replace them with the company logo ( Allowed types - jpeg & png, Max Size 2 MB, Image Dimensions - 50X53)
Header & footer can be customized( Kindly note the text is header & footer is fixed), the text cannot be customized. Listed below are customize options:

Font Color, Font Size, Font Type and Form Background Color

Customize Questions 

 Listed below are customize options for the Questions & Answers:

Font Color, Font Size and Font Type 

Customize Submit Button 

Listed below are customize options for the Submit Button 

Font Color, Font Size and Font Type 
Following is an example of a customized Secure Form: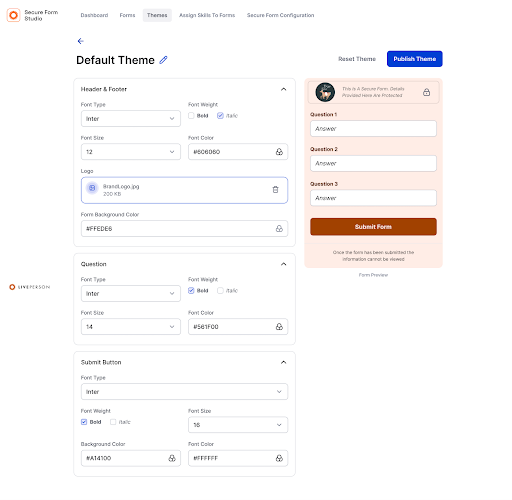 Secure Forms configuration by Skill/LOB, sort and filter alphabetically.
With the Secure Forms Studio, it's possible for the agents to see the secure forms based on their LOB & Skills instead of all the Secure Forms in the predefined content widget. 

Agents can also sort and filter the forms alphabetically, both, in the Forms view as well as in the Skills view.   
The Skill management panel looks like the following: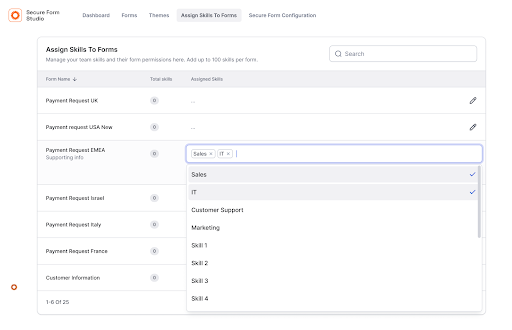 Enhancements
Offer recommendations to specific agent groups
You might want to offer answer and bot recommendations only to specific groups of agents, for example, only to new agents who are onboarding. And now you can.
In Settings, you'll now find a setting that you can use to limit recommendations to one or more agent groups. Simply select the predefined groups.

Note the following:
This new setting affects both inline recommendations and those offered in the On-Demand Recommendations widget. 
As the message in the UI indicates, if you don't select any agent groups, recommendations are offered to all agents.
Keep in mind that recommendations are still skill-based too. The selected agent groups work as the first filter to determine whether an agent is eligible to receive recommendations. The skills in play work as the second filter. 
For example, assume that you're limiting recommendations to a "NewHires" agent group. Further, you have a Telco FAQs knowledge base assigned to the "Support" skill. For an agent to be offered an answer from the knowledge base, the agent must 1) be in the "NewHires" agent group, and 2) pick up a conversation that was routed to the "Support" skill. (The consumer's query must also match an article in the knowledge base.)
Fixes
Reports: Users couldn't freely select date ranges
We've fixed an issue that prevented you from selecting the date ranges that you desired to view reports for that date range.
This has been fixed. Now, you can select any date range. If there are no reports for the date range, a "No data available" message is shown. Otherwise, the reports for that date range are shown.
Features
Publish new API for Engagement Controller
 Engagement Controller is a feature within Conversation Orchestrator that lets you control the incoming flow of conversations in Web messaging by showing and hiding engagements on your website according to defined skill thresholds. 
Engagement Controller is in addition to existing Campaign Builder settings. It lets you use welcome bots to start conversations and control whether Web Messaging engagements are shown or hidden based on skill availability. Campaign Builder settings for enabling and disabling engagements and for campaign time frame have priority over Engagement Controller settings. Further details can be found here
The Engagement Controller API extracts data according to the search query. The API allows brands to extract information about their engagements configured in the Engagement Controller UI. The data includes engagement rule results and support in the following methods:
Engagement Controller rules by account ID
Engagement Controller rules by engagement ID
For more information, click here