Week of April 10th
New updates: WhatsApp Business
Exact delivery dates may vary, and brands may therefore not have immediate access to all features on the date of publication. Please contact your LivePerson account team for the exact dates on which you will have access to the features.
The timing and scope of these features or functionalities remain at the sole discretion of LivePerson and are subject to change.
Features
WhatsApp Self-Service Onboarding UI Redesigned
LivePerson has completed a UI redesign of the WhatsApp self-service onboarding. In addition to UI redesign, the onboarding/configuration page now includes a messaging limit tier, which enables businesses to assess the effectiveness of their messaging.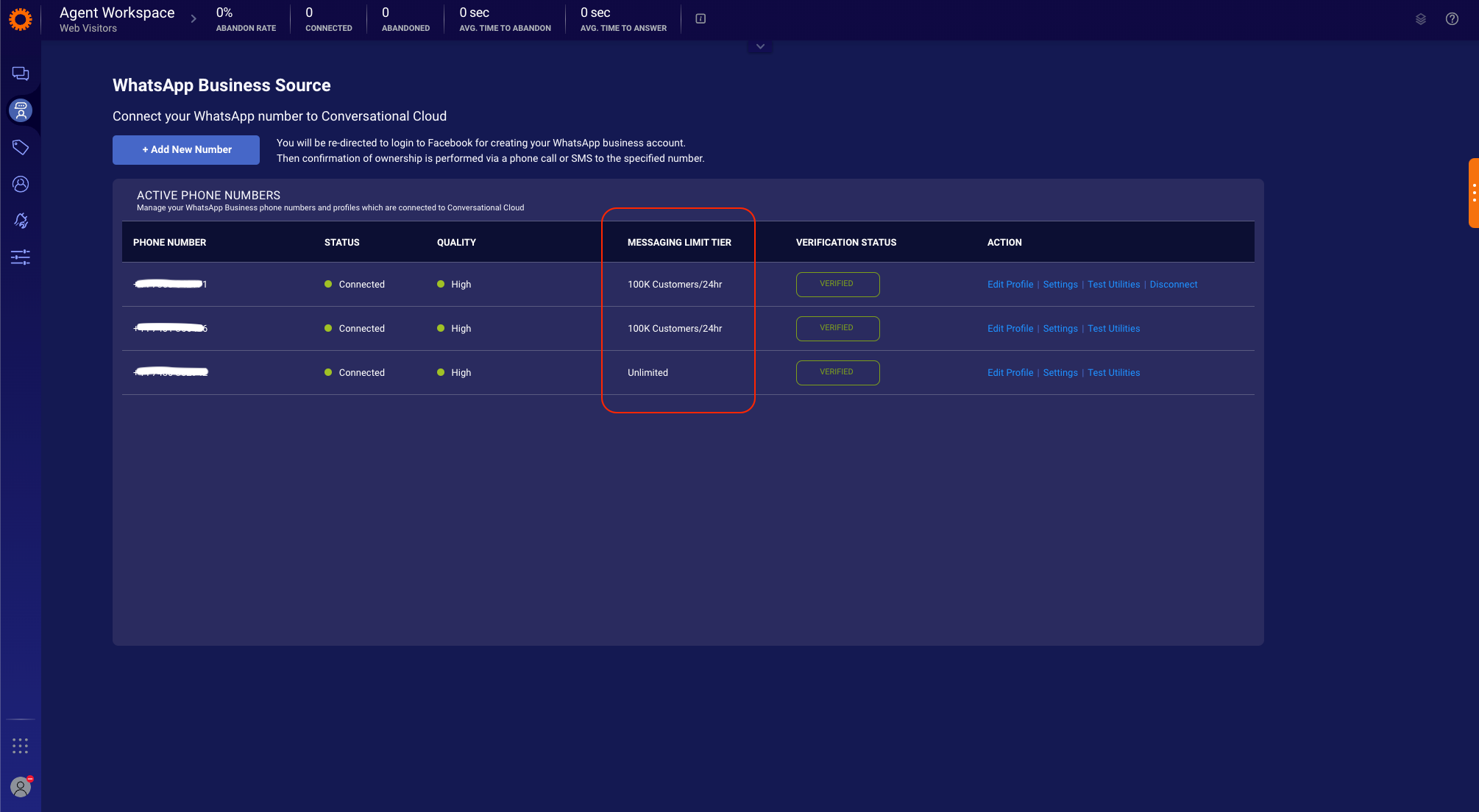 WhatsApp Messaging Limit Tier
Features
WhatsApp Commerce Settings
We are delighted to announce that LP now supports self-service activation or deactivation of the shopping cart and product catalog on a per-business phone number basis. The default configuration entails enabling the shopping cart and hiding the storefront icon for all business phone numbers linked to a WhatsApp Business Account. 
Key Capabilities:
Enable/Disable Cart - When the shopping cart is enabled, buttons associated with the cart will be visible in the conversation, catalog, and product details views. However, in the event that the shopping cart is disabled and catalog is enabled, customers will be able to view products and their details, but all cart-related buttons will not be visible in any of the aforementioned views.
Enable/Disable Shopping Catalog - When the product catalog is enabled, both the catalog storefront icon and catalog-related buttons become visible in both the conversation and business profile views. In the event that the product catalog is disabled, both the storefront icon and catalog-related buttons will not be visible in any views. Additionally, the catalog preview, along with its thumbnails, will not be displayed in the business profile view.
If you disable the catalog, wa.me links to your catalog, as well as the View catalog button that appears when you send your catalog link in a message will display an Invalid catalog link warning when tapped.